Facebook for iPhone is currently the most popular social-networking application on the App Store, which says as much about the 90 million active users on Facebook as it does about the iPhone app.
The app is divided into five sections with tabs along the bottom to navigate. Home lets you track the status of your friends, as well as update your own status with text or photos (taken within the app or chosen from your iPhone photo library). You can tap on the blue arrow next to any message to open that person's profile.
The second tab is titled with your first name—it's your profile. The Friends tab displays your friends in a alphabetical list similar to the iPhone's own Contacts application, but with thumbnails for friends who've set a photo for their profiles. Chat takes you to the chat interface, which is broken up into Available Friends and Idle Friends; from here you can start an SMS-like chat with a friend. (Chat uses the Facebook Chat feature, so there are no additional fees involved, as with actual SMS texting on the iPhone). And Inbox lists any messages sent to you—click on one to read and, if you want, reply.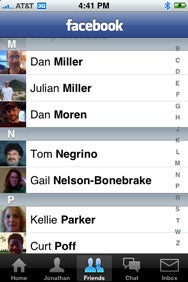 When you open up a profile, you get access to a person's wall (you can read what's on it or write something), mini-feed, and photos, as well as personal information such as networks, place of work, birthday, e-mail address, and interests. From a profile, you can also send a message to, chat with, or poke a friend. In short, the app provides you with a relatively quick and responsive interface for keeping in touch with your friends.
What the Facebook app doesn't do is let you search for or invite new friends, nor does it let you accept friend invitations from others. It also doesn't show notifications, and can't access any Facebook applications—sorry, no Pirates Vs. Ninjas on your iPhone. In other words, the app is nice for very specific interacting with your current network, but not expanding it.
Facebook is compatible with any iPhone or iPod touch running the iPhone 2.0 software update.
[Senior news editor Jonathan Seff has 56 friends on Facebook.]