At a Glance
Expert's Rating
Pros
MicroSD slot for additional storage capacity
60GB hard drive
Cons
Difficult to transfer video to Mac
Mediocre video image quality
Short battery life
Our Verdict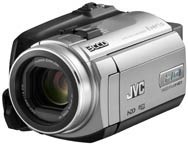 JVC's Everio GZ-HD5 is a digital camcorder that uses three charge-coupled devices (CCDs) to record high-definition video to its built-in 60GB hard drive. The quality of the video captured on the GZ-HD5 was decent (though we've seen better), and the quirky methods necessary to transfer the video to your Mac are far from elegant.
Light and compact, the barrel-shaped GZ-HD5 fit comfortably in the palm of my hand, with the record, zoom and, snapshot controls within easy reach for one-handed filming. The camcorder lacks a viewfinder, which would have been helpful for shooting in bright sunlight, but the 2.8-inch widescreen LCD was bright enough for most situations.
The rechargeable lithium ion battery protrudes out of the back of the unit a little further than a typical battery would, looking like an optional, high-capacity battery rather than standard equipment. Unfortunately, despite its bulk, the battery's charge lasted only 67 minutes of recording time. JVC does sell an optional battery for $91 that lasts about 50 percent longer than the standard model and is about half an inch longer.
The camcorder records to a 60GB internal hard drive, capable of holding up to five hours of full HD (1,980 by 1,080i) video; there's also a microSD card slot for even more storage capacity. (The highest-capacity microSD card I could find was a 8GB card for around $33.)
The GZ-HD5 features a cold accessory shoe that can accommodate JVC's $130 optional stereo microphone. This optional mic can be powered from the microphone jack located on the back of the camera, just above the battery.
Aside from Auto and Manual modes, the camcorder offers Sports, Snow, Twilight, Portrait, and Spotlight presets, though finding them might be something of a challenge. The camcorder's menu system is a little difficult to follow, and it's hard to find the settings you want. Some buttons are located around the LCD screen, and others are on the side of the camera; you must keep turning the camera in order to find the button to push next.
While menu navigation may be a bit challenging, it's a regular walk in the park when compared to transferring files from the GZ-HD5 to your Mac. The camcorder records video at resolutions up to 1,920 by 1,080i (variable bit rate) in MPEG-2 TS, saved as .TOD files. In order for your Mac to read this file type, you must install the included Everio Component for QuickTime software and then download and install an update to this plug-in available from the JVC Web site.
Once the software has been installed, you can attach the camera via USB 2.0 and the GS-HD5's hard drive mounts on your Mac. When we tried to import the 1,920 by 1,080i video into Final Cut Pro, the software crashed when we tried to render the clips. iMovie HD can see the files, but crashes on import. QuickTime Player crashes when trying to play them. iMovie '08 doesn't even recognize the 1,920 by 1,080i video files as valid clips. There is a workaround, but you'll need to purchase QuickTime Pro ($30) so you can convert the JVC's 1,920 by 1,080i into a supported .MOV file. Once the files were converted, we could use them in editing software.
Without using QuickTime Pro, the only video we were able to use on the Mac was shot at 1,440 by 1,080 (constant bit rate). You can import these clips into iMovie HD and iMovie '08 by going through your footage on the camera and, using the on-camera controls, creating a playlist of clips. Once your playlist has been created, you choose Dubbing Playback in the GX-HD5's controls, select the playlist, and click through a couple of alerts—but don't hit the play button when the camcorder asks you to. Instead, attach a mini 4-pin-to-8-pin FireWire 400 cable (not included) from the GZ-HD5 to your Mac, launch iMovie, click the video camera icon, and select Import. The playlist begins playing on the GZ-HD5 and iMovie captures it real-time.
A panel of editors looked at both the GZ-HD5's 1,440 by 1,080 video footage (an indoor scene that includes flesh tones, a Macbeth color chart, various textures, and a spinning Ferris wheel to evaluate motion) and rated it against clips from other high-definition camcorders shot under the same conditions. We found considerable noise in the captured video. Colors had a blue cast, and objects were fuzzy and lacked detail. Overall, the GZ-HD5's footage was rated as Fair by our panel. The 1,920 by 1,080i video converted using QuickTime Pro didn't fare any better.
Aside from controlled conditions in the lab, I used the GX-HD5 in several other shooting situations. Low-light interior shots showed up a little dark and noisy. Outdoor shots on a bright and sunny but windy day turned out shaky despite the optical image stabilizer, and there was lots of wind noise even though I had turned on the wind noise cutting setting.
The GX-HD5 can also capture still photos at 2.1-megapixel resolution. Luckily, importing photos was much easier than importing video, with either iPhoto or Image Capture easily transferring the pics to a Mac Pro for printing. The photos had good color but were very noisy, earning a Fair rating from our panel. I doubt many would find the GX-HD5 to be an acceptable replacement for a high-quality point-and-shoot digital camera.
Performance
| | |
| --- | --- |
| Still Image Quality | Fair |
| Video Quality | Fair |
| Battery Life | 67 minutes |
Scale = Superior, Very Good, Good, Fair, Poor
Specifications
| | |
| --- | --- |
| LCD Size | 2.8 inches |
| Optical Zoom | 10x |
| Still image resolution | 2.1 megapixels |
| Size (WxHxD) | 3.1 x 2.9 x 5.1 in |
| Weight (ounces) | 20.8 |
| Video codec | MPEG-2 TS |
Macworld's buying advice
Despite its compact size and 3-CCD capture capability, JVC's Everio GZ-HD5 offers mediocre video and still quality. Couple that with difficult file transfer and editing problems and it's hard to recommend this camcorder over other, more compatible camcorders like Canon's Vixia HF10 ( ) or Sony's HDR-SR11 Handycam ( ).
[James Galbraith is Macworld's lab director.]
[Editor's note: Updated 8/19/08 at noon to correct microSD reference.]