Tritton Technologies has announced the launch of its SEE2 Extreme, a new peripheral that enables you to connect external displays through USB 2.0. It costs $119.99.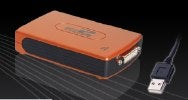 The SEE2 Extreme works at resolutions up to 1920 x 1200 pixels and supports Digital Visual Interface (DVI) and VGA-equipped displays. It supports widescreen and rotated screen displays, supports video playback, and also supports mirrored, primary and extended viewing modes. A DVI to VGA adapter is included.
Tritton says that the SEE2 Extreme works with any Mac running Mac OS X 10.4 or later with an available USB 2.0 port. Up to four SEE2 Xtreme units can be added to a single Mac.