iHome on Wednesday announced the release of the iH41, a new rotating alarm clock designed for the iPod touch. It costs $79.99.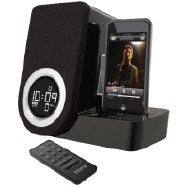 The unusually-shaped iH41, which looks like an L, rotates to enable you to watch videos on the iPod touch while it's docked and charging. The digital clock display reorients depending on the position of the unit.
The iH41 was designed with the iPod touch in mind but works with most docking iPod models. It features "EXB" expanded bass and a "Reson8" speaker chamber. A wireless remote control is also included.