Newer Technology on Wednesday announced its MiniStack 2.5, a new addition to its MiniStack line of external powered hubs. The device is available starting at $79.99; Newer offers MiniStack 2.5 models with up to 1TB of storage for $279.99.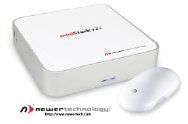 The MiniStack measures 6.5 x 6.5 x 1.5 inches, making it ideal as a Mac mini accompaniment, but it can work with any Mac or PC. It sports three FireWire 400 interfaces (one uplink and two additional ports) and four USB 2.0 interfaces (one uplink and three additional ports).
Connection cables are included. A Kensington security slot helps to make sure the MiniStack doesn't go wandering off, and ProSoft Engineering DataBackup 3 software and Intech SpeedTools Utilities are also included.
Newer offers a "0GB" configuration that lets you add your own SATA or PATA hard drive component inside, or you can buy the MiniStack 2.5 with a drive pre-installed. Newer offers 80GB, 160GB, 250GB, 320GB, 500GB, 750GB and 1.0GB models.