Brace yourself: the onslaught is at hand. Last month, in Apple's Q3 conference call, Tim Cook said that Apple was still on track to roll out the iPhone 3G in 70 countries by the end of the year. Furthermore, he dropped the tantalizing detail that Apple would add an additional twenty countries on August 22nd.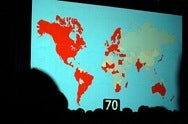 Ah, but what countries, precisely? We have a list of the other fifty or so countries that Apple's planning on hitting in 2008, but we're now just starting to get wind of which of those will make the cut on August 22nd, a mere sixteen days from now.
Bloomberg reports that Spain-based Telefonica will be launching the iPhone 3G in eight separate Latin American countries in late August (PDF link): Argentina, Chile, Colombia, Ecuador, El Salvador, Guatemala, Peru and Uruguay. Reuters, meanwhile, is reporting that cell provider America Movil will also bring the iPhone to several Latin American companies, most of which overlap with Telefonica's, as well as Paraguay and Honduras.
That's not all for August though: Bhairti Airtel has announced that they'll be launching in India and Vodafone is right on their heels; O2 is adding the Czech Republic to their list; TeliaSonera subsidiary EMT will launch the phone in Estonia; Orange and Era will release the iPhone in Poland; Orange will also roll out the iPhone in Romania where prospective customers can register their interest; Globe Telecom is bringing the iPhone to the Philippines; and T-Mobile will be the official distributor in Hungary.
That brings the total to seventeen countries, meaning that there are three left for August 22nd—plenty for a solid office betting pool. We'll even throw out the fact that Reuters is reporting that Singapore will be among the final three . Of course, we'll fill out the list as we get more information. Let the wagers commence.
Updated 5:45PM ET with Reuters report about America Movil.