PlayFirst on Wednesday announced the release of Cooking Dash, a new spin-off of the enormously popular Diner Dash series of casual games. Available for Mac OS X and Windows, Cooking Dash costs $19.95. A 60-minute trial version is available for download.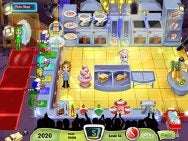 Cooking Dash follows the story of Flo, the star of the Diner Dash series, as she and her beloved grandma fill in at DinerTown's busiest kitchens to cover a cook shortage. Cooking Dash is a new "assembly-management" game, where you have to juggle multiple tasks simultaneously in order to succeed.
Cooking Dash is the first "Dash" game to feature Flo that isn't a Diner Dash game. The game features more than 50 levels of play, and sports 3D rendered characters.
System requirements call for Mac OS X 10.4 or later, G4/800MHz or faster, 256MB RAM, 800 x 600 display and 30MB hard disk space.