Addonics on Thursday introduced its Portable Dual Drive RAID enclosure, an external storage device that accommodates up to two 2.5-inch Serial ATA (SATA) hard disk drive mechanisms. It costs $99.99.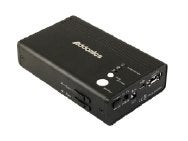 The enclosure can either support two 2.5-inch SATA drives or up to four Compact Flash cards using an optional adapter. It connects to a host Mac or PC using USB 2.0 or external Serial ATA (eSATA — available on the Mac using an host controller card).
The drive features push-button RAID setting support and supports RAID Level 0 and Level 1, JBOD (Just a Bunch of DIsks), BIG, SAFE50, SAFE33 or GUI modes using built-in hardware.
The chassis opens to allow you access to the drive mechanisms without needing any screws to be removed. Addonics also includes USB and eSATA connecting cables. The chassis measures 5.24 x 2.27 x 1.3 inches and weighs 7.1 ounces (without drives installed).