Nikon on Thursday introduced six new models to its Coolpix digital camera line, including some with touch screens, GPS, built-in Wi-Fi and more. The new cameras will be available beginning in September, 2008.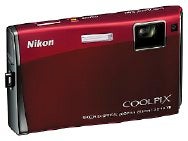 The S60 features a 3.5-inch LCD touch-screen interface that enables you to choose shooting and playback controls without needing to use a dial or button interface. You can also use the touchscreen to lock the camera's autofocus and exposure on a subject by touching the corresponding location on the screen. The S60 will retail for $349.95 and comes in a variety of designer colors.
The P6000 is a 13.5-megapixel camera with 4x wide-angle lens, Optical-VR image stabilization and other features. It sports support for NRW (digital raw) image format and can embed Global Positioning System (GPS) data into the photo's metadata for "geotagging." Look for it for $499.95.
The S610C has a built-in Picture Mail button that sends images to Nikon's My Picturetown online service. The camera has built-in Wi-Fi connectivity, and Mikon is including a subscription to Wayport, a leading provider of Wi-Fi hotspots nationwide (Wayport powers McDonald's Wi-Fi connectivity, for example). The S610c will cost $329.95.
The S610 is priced at $279.95. While it doesn't have Wi-Fi, the compact camera features a 10-megapixel sensor and 4x zoom lens. It also has "Active Child Mode," which will automatically track the movement of subjects like children and pets to help you get an in-focus picture of them. The S610 also has a 3.0-inch LCd display, in-camera red eye fix and new EN-El12 rechargeable Li-Ion battery. It will cost $279.95.
The S560 is a 10-megapixel camera with 5x lens and image stabilization. It features a "Scene Auto Selector" mode that automatically selects the right scene mode for the image you're shooting. A 2.7-inch LCD monitor on the camera's back has an anti-reflective coating. Other features include in-camera red eye fix, D-Lighting, which compensates for excessive backlighting, and more. The S560 will cost $249.95 and comes in black, blue and "cherry blossom" finishes.
The S710 is a compact camera with a 14.5-megapixel sensor and 3.6x optical zoom. It supports ISO up to 12800, and features new exposure modes and the new Scene Auto Selector Mode. It also has a 3.0-inch LCD display and is compatible with high-capacity SDHC cards. The S710 is priced at $379.95.