Sony on Thursday announced two new models added to its line of Cyber-Shot digital point-and-shoot cameras. the DSC-T700 and DSC-T77 are expected to be released in September for about $400 and $300, respectively.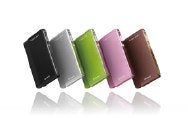 The DSC-T77 is Sony's thinnest model. It measures less than 5/8th of an inch thick but features a 3-inch, 16 x 9 touch panel LCD display. The new camera sports intelligent scene recognition technology, "Smile Shutter" and face detection technologies with adult and child priority, and ISO support up to 3200. It also has eleven built-in scene modes and in-camera image management.
The DSC-T700 has all the features of the T77 and adds 4GB of built-in memory, suitable for nearly 1,000 full-resolution photos; a 3.5-inch wide touch panel LCD display with 210 pixel-per-inch (PPI) resolution with high contrast and wide-angle viewing. It measures slightly more than 5/8th of an inch thick to accommodate the extra features.
Both cameras tout 4x optical zooms and "Optical SteadyShot" image stabilization. They'll come in different color choices.
Sony's Web site had not been updated with information about the new cameras as Macworld posted this article.