At a Glance
Expert's Rating
Pros
Automatic document feeder
802.11g wireless networking
Built-in fax machine
Cons
Slow printing at non-draft resolutions
No two-sided printing option
Our Verdict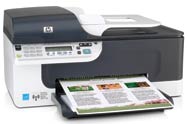 For $130, you might not be surprised to find print, scan, and copy capabilities in HP's OfficeJet J4680 multifunction ink-jet printer. But the J460 also has a built-in fax machine, wireless connectivity, and a 20-sheet auto document feeder. HP boasts about the J4680's 20-page-per-minute black-and-white print speeds and 17-page-per-minute color print speeds, but in our real-world tests, the printer proved to be something of a slowpoke.
Setting up the printer was easy enough: just attach the included USB and power cables, install the software and print cartridges, and you're ready to go. There were also a couple of cool setup features I hadn't seen before in an HP multifunction device. First, when running the software installer, you're asked if you want to install HP's Inkjet Utility Widget, which runs in OS X's Dashboard. The widget gives you a quick glimpse of your ink supply and allows you to launch the standard HP printer maintenance utility software. Second, after you install the print cartridges, the printer asks to insert a sheet of paper so that it can print out an alignment page. In itself, this isn't unusual, but many printers require you to analyze this test output yourself, choosing which bars line up best and then using the printer's on-board menus to input that info. With the J4680, you simply lay the printed sheet on the scanner bed and press OK. The scanner reads the sheet and makes any necessary adjustments.
The J4680 uses two ink cartridges, one black and one tri-color (cyan, magenta, and yellow), that claim to yield 200 and 360 prints, respectively. Replacement cartridges cost $15 for the black and $25 for the tri-color. HP also sells a high-yield black print cartridge; at $28, it costs a little less than two standard-yield black cartridges, and promises to print 700 pages before running out of ink. Unlike some HP printers, the J4680 doesn't offer support for a photo color ink cartridge.
It was easy to set up the J4680 to connect to the office wireless network. The printer showed up as a Bonjour printer automatically, and you can join individual wireless networks via HP's Control Center software on your Mac. That sure beats configuring the device using the printer's on-board menus and controls, like I've had to do with other multifunction printers. I was also pleasantly surprised to find that push scanning from the J4680 to my MacBook over an Airport network worked seamlessly as well, as many printers we've tested in the past either skip support for network scanning or offer it via some tedious workaround.
We printed a wide variety of test pages on the J4680 and found the prints to be of good quality. Prints of our standard Photoshop test files were a little over-saturated, and a bit too red all around. The J4680 doesn't provide an ICC color profile, so you're better off letting the printer handle the color management. The four-color printer also lacked the smooth, continuous tone you might find from a six-ink photo printer, but the results were acceptable. Text, when printed in Normal or Best modes on plain paper, earned a Good rating. Text was clean, with sharp letters legible at even very small point sizes; but when text was printed with a colored background, there was a tendency for bleeding that looked messy.
Print times were slow. It took 19 seconds to print a 1-page black-and-white Microsoft Word document; 1 minute and 47 seconds for a 10-page text document; over 4 minutes for our Photoshop test file; and a whopping 22 minutes to print our 4-page PDF document at Best quality (not the higher Maximum DPI mode also available) on plain paper.
The J4680 also features a 1,200-dpi, letter-sized flatbed scanner. It can produce 48-bit scans, but only after you find and enable that feature deep in the HP scanning software's preferences. That's my biggest complaint about the scanning software: most settings are hidden up in the menu bar pull-downs, requiring a search for the proper controls to customize your scan. Once I figured out the software, I was able to get good quality scans that were color accurate with lots of detail. I was able to scan into Photoshop CS3, as well as directly from HP's scanning software. You can choose to scan a document to OCR in TextEdit, scan to PDF, scan to e-mail, or scan to file.
I tested the copier with a variety of documents, from photos to magazine covers to text documents. The copies of photos had a slight yellow tint, but the magazine cover looked very good. A copy of a grayscale test page was a little light but maintained a good amount of detail. You can place the original either on the scanner's flatbed or in the automatic document feeder, which can hold up to 20 sheets of paper. It took about 4 minutes to copy a 10-page black-and-white Word document. The J4680 doesn't offer two-sided printing or scanning.
The J4680 also features a built-in fax machine that worked as advertised, and the included automatic document feeder takes the hassle out of sending multi-page faxes.
Timed Trials: Print
| | |
| --- | --- |
| 10-page Word test | 1:47 |
| 1-page Word test | 0:18 |
| 22MB Photoshop image | 4:20 |
| 4-page PDF | 22:30 |
Scale = Minutes: Seconds
Timed Trials: Scan
| | |
| --- | --- |
| 8-by-10-inch photo, 600 dpi scan | 4:11 |
| 4-by-6-inch photo, 1,200 dpi scan | 6:15 |
Scale = Minutes: Seconds
Jury Tests: Print
| | |
| --- | --- |
| Graphics: Fine Lines and Gradients | Very Good |
| 22MB Photoshop image quality | Good |
| Text Quality | Good |
Scale = Superior, Very Good, Good, Fair, Poor
Jury Tests: Scan
| | |
| --- | --- |
| Color | Very Good |
| Clarity | Very Good |
| Copy | Very Good |
Scale = Superior, Very Good, Good, Fair, Poor
Specifications
| | |
| --- | --- |
| Print Resolution | 4,800 x 1,200 dpi (color); 600 x 600 dpi (black) |
| Scan Resolution: Optical | 4,800 dpi |
| Max. scanning bit depth | 48-bit |
| Connections | USB 2.0; wireless 802.11g |
| Paper Sizes | letter, legal, executive, cards |
| Cost to Replace Ink | $43 ($15 for black; $25 for tri-color cartridge) |
| Weight (in pounds) | 13 |
| Dimensions (height x depth x width in inches) | 17.1 x 15.8 x 8.5 in |
| Paper Capacity | 100 sheets |
| Special Features | 20-page automatic document feeder; fax |
Macworld's buying advice
The OfficeJet J4680 is a good all-around multifunction printer. Despite its slow print speeds and a couple of paper jams when using the plain paper we stock in the office, we found it to be a capable printer, scanner, copier, and fax machine. Add in some of the software niceties, and you have a recommended product.
[James Galbraith is Macworld's lab director.]