As baseball's pennant races heat up—for those of us not living in the San Francisco Bay Area, anyway—this is the time for Major League Baseball Advanced Media's $5 iPhone app, At Bat, to shine. And shine it does, albeit with some omissions that limit its effectiveness for the most die-hard baseball fan.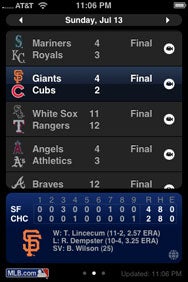 MLB.com At Bat allows baseball fans to get live scores, including a line score and current game status information, and watch video highlights just a few minutes after the events occur, while the game's going on. The app's primary interface is a list of today's games, including the current score and inning. Tap on a game and its line score appears below, displaying scores by inning, total runs, hits, and errors, and either the current batter, pitcher, location of baserunners, and ball-strike count (for live games); the winning and losing pitchers and the pitcher who saved the game, if any (for completed games); or the team records and expected starters (for games that haven't begun yet). Set your favorite team in the program's settings window and it will always appear at the top with a star next to it.
At Bat's best feature, and the only one that makes it worth $5, is access to video highlights of both completed and in-progress games. Within 15 minutes of an eventful moment in a game, the highlight appears in a menu that appears when you tap on the small video camera icon next to the game's score. If you're on a Wi-Fi network, the video quality is excellent; the slimmed-down version that downloads over a 3G network is of noticeably poorer quality.
The most frustrating limitation of At Bat is that it doesn't allow you to get a more detailed view of what's happening (and what's already happened) in a particular game. For an in-game boxscore or more information about what pitches are being thrown, you'll need to use Safari to view MLB's mobile-phone Web site (there's a small web-link icon next to each game), because that information doesn't appear anywhere in MLB.com At Bat. Ideally you should be able to drill down on a single game and follow it more intensely, including play-by-play and a boxscore. And there's nothing more frustrating than waiting a minute or more to get a data update when the count is 3-2 and the bases are loaded with two men out. For a more detailed view of what's happening, check out free scoreboard apps such as SportsTap (free with ads, shows boxscores, play-by-play, and current status), ScoreMobile (free and ad-free with boxscores but no play-by-play), and LiveSportz (free and ad-free, with play by play data but no boxscore).
Given the fact that the iPhone can move large amounts of data over Wi-Fi and 3G networks, it's also a little disappointing that MLB hasn't integrated Gameday Audio into At Bat. As a Gameday Audio subscriber, I have access on my Mac to the radio broadcasts of every game. It would be great if I could tap on a game and tune it in.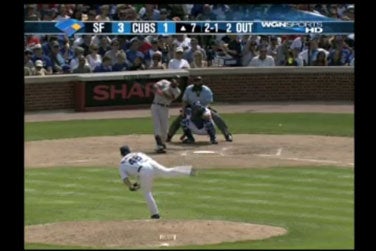 Still, I haven't regretted spending $5 for At Bat, and find myself using it all the time. However, it's important to note that the $5 price covers the entire 2008 season (all the way through the playoffs and the World Series), according to MLB. In all likelihood you'll need to buy a new version of the app for next season, just as MLB charges on a seasonal basis for its other Internet audio and video products.