Canon has introduced three new High Definition (HD) camcorder models. The Vixia HF11 Dual Flash Memory Camcorder, Vixia HG21 and Vixia HG20 Hard Disk Drive camcorders are expected to debut next month and will cost $1,199, $1,299 and $949 respectively.
Each camcorder features 24 megabit per second (Mbps) bit rate recording in AVCHD format. They're equipped with HD CMOS image sensors that record in 1920 x 1080 pixel resolution, and come equipped with Canon-developed DIGIC DV II image processors, "Instant AutoFocus" and "SuperRange Optical Image Stabilization." All come with Mac and PC software and transfer data using USB 2.0.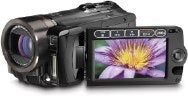 The Vixia HF11 Dual Flash Memory camcorder records to 32GB of built-in internal memory storage. You can also record video to a removable SDHC flash media card. The camera sports a 2.7-inch widescreen LCD display. You can capture 3.1-megapixel still images, and the camera comes equipped with a microphone terminal with manual audio level control.
The Vixia HG21 touts a 120GB hard drive that can accommodate up to 45 hours of HD video recorded in LP mode. It can also record to an SDHC card if you prefer. The camera features a 12x HD video lens, HDMI connector and 2.7-inch widescreen LCD display.
The Vixia HG20 has 60GB of internal hard disk storage and a slot for an SDHC card, 12x video lens and HDMI terminal. It also comes equipped with a mini accessory shoe to attach additional peripherals.