Sure your iPhone can surf the web, get your email, even have your trousers taken in—but did you know it'll also let you speak in tongues? We're not talking glossolalia here, either. Thanks to Google, you can now have handy phrases from over a dozen of languages at your fingertips.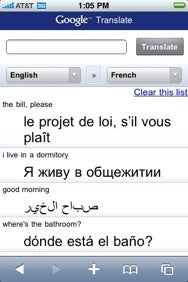 Machine translation is nothing new, of course, as anyone who used to play with Alta Vista's Babelfish (now part of the Yahoo! Empire) will remember. But Google has now created an iPhone/iPod Touch-specific version of its Google Translate website, just for those who love to tote around their iDevices while traveling overseas. The interface was created by two Google engineers, Allen Hutchison and David Singleton, in the 20% time that Google allocates to its employees for their personal projects.
Like the normal web-page version, the iPhone-specific Google Translate web app allows for bi-directional translation between over twenty different languages, among them Chinese, French, Swedish, German, and—of course—English. The web app is cleanly laid out, with selector menus for the source and target languages, a field for entering your phrase, and an arrow that lets you toggle which direction the translation goes. Best of all, the Google Translate web app stores your recent queries, so you can load it up with a few handy phrases and not worry about erasing the earlier ones when you add more.
The iPhone does complicate at least one aspect of the translation, though, and that's its support (or lack thereof) for different character sets. While Asian languages like Chinese, Japanese, and Korean appear to render fine (at least to my untutored eye), the iPhone still does not correctly display Arabic script (it displays letters individually, without the connecting ligatures, which effectively makes it gibberish). This isn't a fault of Google, of course; it's a problem with the iPhone's version of Safari (similar problems had existed in the OS X version of Safari, but seem to have finally been ironed out).
Until then, you may want to refrain from trying to use your iPhone to translate you out of sticky situations in the Middle East.