At a Glance
Expert's Rating
Pros
Optional external power
Small
Cons
Device feels delicate. No Mac software in box
Our Verdict
Portable products typically must balance a set of contrary design goals: they can either offer fast performance or be physically light, but not both. LaCie's Portable DVD±RW with LightScribe, Design by Sam Hecht, is one product where style and weight trumped speed and (to a certain extent) sturdiness. Even so, it's the portable DVD burner of choice for MacBook Air ( ) owners. Just don't drop it.
The drive draws its power from USB, so it needs to be connected to a powered USB port. LaCie includes a small AC adapter for situations where the Mac's USB can't provide the requisite power.
There's no bundled Mac software with the drive, but you can download for free LaCie's LightScribe Labeler 1.2. This program lets you create and etch the labels onto LightScribe discs (LightScribe requires special LightScribe media).
You also download LaCie's Remote Burn 1.0 (free), which lets you set up the LaCie drive as a shared device on a local network.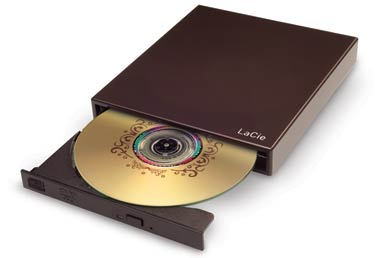 The LaCie drive worked well, though the performance was typical of laptop burner mechanisms.
The drive's slide-out tray design gives it a bit more of a fragile feel than we would like, especially for a product that's meant to be taken on the road.
We didn't conduct a drop test of the drive, but we couldn't shake the notion that the plastic case might sustain damage the first time it took a tumble to the ground.
Timed trials
| | |
| --- | --- |
| 8x +R Burn | 10:56 |
| 8x DL Burn | 25:57 |
| DL Copy 655MB to Hard Drive | 2:43 |
Scale = Minutes: Seconds
Specifications
| | |
| --- | --- |
| Drive Mechanism | TSST SN-S082N |
| Connectors | USB 2.0 |
| Rated Burn Speeds | DVD+/-R 8x, DVD+/-R DL 4x, CD-R 24x |
| Included Software | No Mac compatible software included, but can be downloaded from lacie.com |
Macworld's buying advice
Although the drive's chocolate color clashes a bit with the silver stylings of the MacBook Air, the Portable DVD±RW with LightScribe, Design by Sam Hecht is the no-brainer alternative to Apple's MacBook Air SuperDrive-while the LaCie drive can operate through a USB hub, the SuperDrive cannot. If you're looking for a mobile DVD burner and you're not expecting a speed demon, the LaCie drive fits the bill. The drive is also offered in a FireWire 400 version for $149.
[Jeffy Milstead is a former Macworld lab analyst and a writer living in San Francisco.]