As a long-time OS X user and troubleshooter for myself, family, and friends, I've got a large bag of tricks to draw from when trying to figure out a problem with the system. Amongst the tools of the trade for OS X troubleshooting are repairing permissions, repairing the hard drive, trying to duplicate the problem with a new user, trashing certain preference files, checking for font corruption, checking crash logs, disabling login items, booting in safe mode, and simply restarting. This isn't a comprehensive list, of course, but it gives you a sense for the wide range of tools you can use to solve a problem you may be having with OS X.
Now let's consider the iPhone. Unlike OS X, the iPhone is a very closed environment from a user's perspective. Your only view of the iPhone is the view you get when you turn it on. You aren't allowed to directly interact with the system in any way, other than through the various Settings screens on the iPhone itself. When you dock your iPhone, you can only work with it through iTunes (and iPhoto for photo synching).
When everything works—as it did for basically everyone using the first-generation iPhone with iPhone firmware version 1.x—that's good news. As a user, you don't really need to see the details when things are working well. Just plug in the iPhone, let it sync, and you're good to go. But what about when things aren't working well? As an example, say with iPhone firmware 2.0?
A fatal flaw
Many users, myself included, have had one particularly disastrous major issue with the 2.0.x version of the software. In my case, my phone has—five times and counting now, including twice in the last two days—reached a state where it won't get past the Apple logo portion of the boot process. This typically happens when applying an update to an application, either via iTunes or on the iPhone itself. During the process, the iPhone will spontaneously reboot, and then get stuck during the boot process, showing just the Apple logo. In one case, I even let it sit at that screen for four hours, just to make sure it was truly stuck—and it was. Coworkers and friends have had this same problem, as have hundreds of other people, so my experience isn't an isolated incident.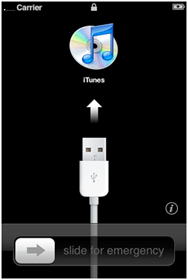 Unfortunately, if this particular glitch bites you, there's absolutely no troubleshooting to be done since you can't see anything other than the Apple logo. Your only solution at this point is a full restore of the iPhone. Hold down the Home button on the iPhone, plug it into your USB cable or dock, and wait until you see the special screen shown at right, then release the Home button.
iTunes will then tell you it's found a phone in recovery mode, and you can then begin the long process of restoring it. First iTunes will reinstall the latest version of the iPhone's operating system, then it will restore your applications (including data you've created in those applications) from your last backup, and then—eventually—you'll be able to sync your music, videos, photos, and other data back to the iPhone.
One interesting aside: if you happen to have new images on the iPhone that you'd like to sync with iPhoto, that may actually work. I was able to sync new images, even with my iPhone showing the Apple logo. This implies that the phone is actually booted—at least to some degree—but with a useless user interface.
An iPhone stuck on booting is, by far, the single most annoying bug in the 2.0 software. I was hoping the recent 2.0.1 update would solve the problem, but it's been just as common from me under the new one as with the original 2.0 software.
Troubleshooting other issues
Beyond this fatal injury, however, there are other glitches with phones running iPhone 2.0.x software. Sometimes applications will launch, then quit back to the home screen immediately. Sometimes, any program (including those that come pre-installed on the iPhone) will quit on launch. Sometimes, it seems your battery life is disappearing more quickly than gas prices are going up. I've also experienced (and seen reports of other people experiencing) very slow iPhones, wherein every tap on the UI takes a second or two to register.
So what can you do when you have these sorts of troubles with your iPhone (or iPod touch, for that matter)? The short answer is "not very much." Because the system is closed to end-user access, most of the traditional troubleshooting methods don't apply—there's no way to trash a given program's preferences files, for instance. If one of the iPhone's standard programs is crashing, you can't just reinstall it, because Apple doesn't provide installers for Mobile Safari, for instance.
The good news, if there can be good news, is that the list of things you can do is very short, so there's not a lot of memorization or training required to troubleshoot your iPhone. So without further delay, here's a super-short iPhone troubleshooting guide, listing some of the things you can do if you're having troubles with your iPhone or iPod touch. This isn't meant to be a definitive list—I'm sure I've overlooked some other possibilities—but it does cover everything that I try when my iPhone has troubles.
In increasing order of difficulty, here are the things I do to try to recover from the various iPhone 2.0.x maladies I've experienced:
Restart the iPhone. Press and hold the power button until you see the "slide to power off" display, then do just that. Let the phone site for a couple seconds, then power it back on. I've found this is generally effective at solving excess battery consumption, as well as the slow iPhone problem. It only takes about a minute, at most, to reboot your iPhone, so it's by far the easiest thing to try.
Reinstall a third-party application. If one particular third-party program is giving you troubles, you can try reinstalling it. First delete it from the iPhone by tapping and holding on the program's icon, then clicking the "x" button to delete it. In iTunes, re-download the program (if you've bought it once, you can do so for free), then sync your iPhone and install the new copy of the program. Warning: You will lose all data you saved with the program—text you added, high scores you set, progress through the game that was saved, etc.
Restore the iPhone, including its backup. Unfortunately, this painful solution may wind up being your most-used troubleshooting technique. If you're experiencing issues with multiple applications, or with Apple's applications, or if neither of the above steps solve your problem, then a restore may be in your future. Before you restore (as explained above), however, sync your iPhone one more time and let it run a full backup (assuming your iPhone is in a usable state). This way, at least, you'll be able to save any of the data you've stored with your third party programs. After the iPhone's software is restored, iTunes will then offer you the chance to restore from the new backup.
Restore the iPhone, start from scratch. If you try the restore method above and find you still have the same issues as before, then you'll have to use this most painful troubleshooting method. Restore the phone as above, but do not restore your backup. It's possible that one of the files in the backup is corrupted, and that's what's causing your issues. Instead of restoring the backup, tell iTunes to treat your iPhone as new. Give it a name, reinstall all of your programs from scratch, and then sync your music, videos, and other content. This is as close as you can come to starting with a factory-fresh iPhone, and represents your best chance at stability—at least for a little while.
Future tips
Those are the approaches we can take to iPhone woes at this time. As we learn more about the 2.0 platform—and as new updates come out—we can expect our ability to deal with instabilities and other difficulties to broaden.
[Rob Griffiths offers Mac OS X troubleshooting tips in the Mac OS X weblog.]