Oncore Power on Monday announced a six-bay battery charger designed to recharge MacBook and iBook batteries. It costs $395.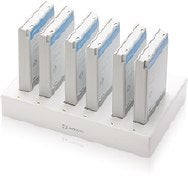 The device is intended for use at educational institutions where MacBooks and iBooks are used. The charger measures 11 inches by 7 inches and it can recharge six empty batteries in less than eight hours. It has a white design and low profile to complement the MacBook and iBook lines.
Oncore also makes the battery charger available in a "value power upgrade kit" that comes with six batteries.