One of the first apps I installed on my iPhone from the App Store was PhoneSaber. PhoneSaber, as you might imagine, turns your iPhone into a lightsaber by displaying a picture of your Jedi weapon of choice and using the iPhone's accelerometer to generate lightsaber sound effects when you swing your iPhone hither and yon.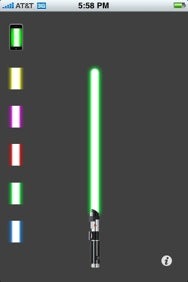 If this is the first time you're hearing of the program, don't bother running off to the App Store to grab it. That's right, yet another app has been pulled from the App Store—but this time Apple wasn't the Sith Lord behind this heinous action.
THQ Wireless (the company owns the rights for Star Wars mobile apps) contacted TheMacBox (makers of PhoneSaber) and asked them to take PhoneSaber off of the App Store. TheMacBox complied and so you can't get your very own copy of PhoneSaber at the moment.
But don't weep in your milk and wookiees just yet (see what I did there?), because THQ wants to create an official version of PhoneSaber and they're working with, you guessed it, TheMacBox to make it happen. The MacBox promises that this means you should be expect an even better version of PhoneSaber, since they'll be able to work with the original lightsaber sound effects and they even hope that the new, improved, PhoneSaber will be free to all would-be Jedi.