An e-mail purporting to be from Apple alerting users to a billing problem is, in fact, a phishing scam that's targeting users of Apple's online service, Macworld has learned.
The e-mail, forwarded to Macworld by a reader, looks like an official communication from Apple regarding MobileMe, the company's subscription service that provides users with a personal e-mail address, Web hosting, file sharing capabilities, and online data synchronization between Macs, iPhones, and other devices. The e-mail states: "We were unable to process your most recent payment. Did you recently change your bank, phone number or credit card?" Users are then invited to click on a link to enter that information—but that link opens a Web page in your browser that does not appear to be affiliated with Apple or MobileMe (the other links in the e-mail do point to pages on Apple's official Web site).
A check of the link information reveals that it is registered to a personal Gmail account originating in Bacau, Romania. It is unknown at this time if this is the person who sent the e-mail, or if their identity had been "spoofed" by the phisher.
In phishing scams, crooks send a phony, official-looking e-mail that tries to entice recipients into revealing private information such as passwords, social security numbers, or credit card and banking account data.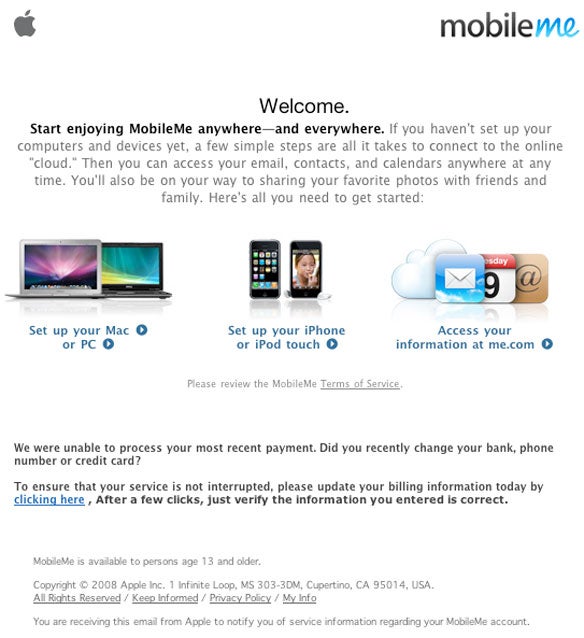 This isn't the first instance where a phisher has tried using an Apple-run service to trick users. In May, iTunes Store users began receiving e-mail that appeared to be from Apple's iTunes Store, suggesting that they must correct an apparent credit card problem. The phony page users were directed to asked for a credit card number and other personal information that, once revealed, could be easily exploited by malicious users looking to commit identity theft.
For more on phishing and how to avoid such scams, see Rob Griffiths' recent story on Web browser security.