Sonnet Technologies has introduced the Presto Gigabit PCIe Server and Presto Gigabit PCI-X Server cards, two-port Gigabit Ethernet cards aimed at Mac network server applications. They cost $199.95 each.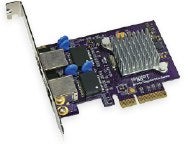 Either card supports gigabit speeds on CAT-5 Ethernet cabling, and supports link aggregation, transparently failover, full/half duplex and 10/100/1000baseT auto-negotiation.
The only difference is the interface the card uses to communicate with the host computer: One card features a PCI Express interface, compatible with latter-day Power Mac G5, PCIe-equipped Xserve and Mac Pro systems; the other comes equipped with a PCI-X interface, which works on PCI and PCI-X-equipped Xserves, earlier Power Mac G5 models, Power Mac G4 systems (all models except the Cube) and Power Mac G3 Server and "Blue & White" systems.