Ubermind has released a $0.99 app on the App Store that's sure to be a hit with concertgoers and others looking to make their iPhones a beacon in the darkness — iLightr.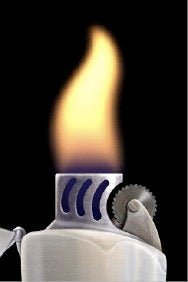 iLightr "harnesses the iPhone's revolutionary user interface" to "create the most realistic virtual lighter experience for any mobile device," according to Ubermind's cheeky press release. Just the thing, apparently, to bring with you the next time Styx is in town and you want to make sure they play "Mr. Roboto" during the encore.
The app uses OpenGL graphics — reportedly designed by an Academy Award-winning special effects artist, no less — "dynamic sound effects" and accelerometer support.