H2O Audio has announced its Amphibx waterproof armband. The armband is available in Medium and Large sizes for $69.99 and $79.99 respectively.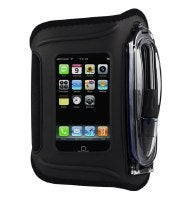 The armband is designed for people who participate in watersports, including surfers, wakeboards, kiteboards, paddlers and triathletes. It will work with all iPod players including the iPod touch, and also works with the iPhone 3G.
The armband sports a "LatchTight" locking closure that provides a watertight, secure seal that works up to 12 feet underwater. The "ClearTouch" window enables you to operate the touch screen (or click wheel) controls, and the "SealTight" connector is compatible with all standard 3.5mm headphone plugs.
Obviously, standard headphones aren't usually waterproof, so H2O Audio will soon offer "Surge" bass-amplified waterproof headphones to go with the Amphibx armband. They're priced at $59.99 per pair.