Olympic fever, baby. I am psyched for the beginning of the Olympics, I tell you. I can't wait to see the opening—wait, what? They started over the weekend? Crap. How do I always miss these things?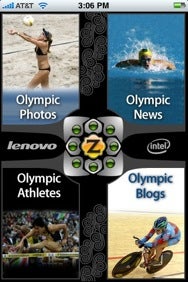 As much as I'd like to place the blame squarely on the likes of NBC and its Mac- and iPhone-incompatible ways, the truth is I'm not really an Olympic junky. I know, I know. It makes me downright inhuman.
But perhaps my iPhone can save me from my Olympic blues, along with some help from Zumobi's new Olympic iPhone app. A joint venture between mobile phone developer Zumobi, Intel, and Lenovo, the application lets you stay on top of all things Olympic. You can browse Olympic news headlines straight from the Associated Press, skim through Olympic photos, check out profiles of Olympic atheletes, and—my personal favorite—read blogs written by those in the games themselves (oh, man, a blog by Danish badminton sensation Kamilla Juhl? Sign me up!).
It's not perfect though: the pics are kind of small, and the text formatting on some of the blogs is wonky, and while the app has a "share" button for passing on info to your friends, all it really does is send them a link to the iPhone application. And, alas, you can't get video highlights through the program either.
Still, if you're looking for a quick way to keep tabs on the games, it's certainly fast and easy. And you'll have no excuse for missing the closing ceremonies when they finally roll around.