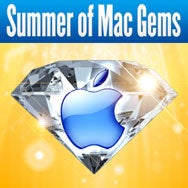 With our review of Simple Comic 1.6.1, our Summer of Mac Gems series ends. It started back in June with a review of Lingon and ended 42 programs later. If you're interested in the other programs reviewed during the Summer of Mac Gems, check out our Mac Gems homepage. You can also see a complete listing of these Gems in the September 2008 issue of Macworld.
Our regular, twice-a-week Mac Gems column will resume next week. Until then, here are three programs you can try for yourself. They're what we call Promising Prospects, software that's not yet final, but available to the general public. Since they're not finalized, use them at your own risk—and be sure to give the developer feedback if you do encounter a bug.
ChocoFlop This image editor uses Apple's CoreImage to display graphics on your screen; the graphic speed will depend on your Mac's graphics card. You can see previews of your changes and filters in real-time.
Skitch From the makers of the popular Comic Life ( ), this program combines image editing tools with Internet features, making it easy to share images on the Web, over e-mail or via instant messaging.
Things When your projects feel like they're out of your control, perhaps you need a task management program like Things. It features an interface that's modeled after Leopard's Finder windows, organization through the use of tags, collaboration features, and more.
[Roman Loyola is a Macworld senior editor.]