Mix Yahtzee and Poker on the iPhone and what do you get? MotionX Poker, a clever and beguilingly addicting dice game for the iPhone and iPod touch that will only set you back $5.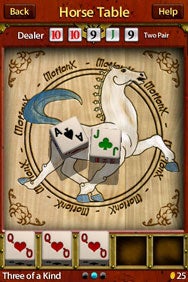 In MotionX Poker, you play against the house (a computer-controlled opponent) as you try to "roll" the best poker hand you can using five specially painted dice. The six-sided dice each have a nine, ten, jack, queen, king and ace engraved on them, and you have three shakes of the dice to figure out your hand. You can hold any or all of the dice in between each roll—so if you come up with three aces on your first roll, you can hold them and then try to get five of a kind with your last two throws.
Poker rules have been modified, obviously, as you're only dealing with six possible "card" combinations. But it's challenging, regardless, and you have to keep some of the realities of "dice poker" in mind. In classic card poker, for example, a full house (a hand that contains three of a kind, plus a pair) beats a straight (five cards in sequence). But because the probability of getting a straight is lower in dice poker, a straight beats a full house. A tutorial mode at the beginning of game play will show you the ropes.
The accelerometer of the iPhone (or the iPod touch, if that's your mobile device of choice) is taken into account here, too. A flick of the wrist is all you need to get your dice rolling. And if you're using an iPhone, specifically, you'll feel the device buzz and vibrate as if the dice were rattling around inside. (You can turn this option off, if you don't want to waste your battery, but where's the fun in that?)
As you get better and better you'll get rewards, including new sets of dice and gems. As your winnings increase you'll also get to unlock high rollers' tables, where the stakes are much higher—as are the rewards.
MotionX Poker is compatible with any iPhone or iPod touch running the iPhone 2.0 software update.
[Peter Cohen is Macworld's Game Room columnist.]