There are plenty of simple to-do apps available for the iPhone—we reviewed a slew of them a few weeks back. But if you're looking for something with more functionality, Appigo's Todo 1.1.1 is one of the better options, and it doesn't require a Ph.D. in Getting Things Done (GTD) to figure out how to use it.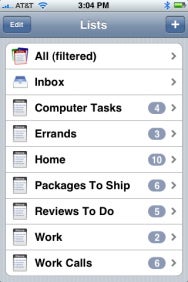 Like Zenbe Lists ( ), Todo syncs your tasks with an online service; in Todo's case, you can choose either Toodledo or Remember The Milk. (Remember The Milk focuses on to-do lists; Toodledo offers many additional features, including Jott integration.) Once you've set up an account with one of these Web sites, tapping the Sync button in Todo syncs any tasks you've entered in Todo on the iPhone with your lists on the site. Similarly, changes made on the Web site are reflected on your iPhone or iPod touch. (Note that Remember The Milk's Smart Lists are not synced with Todo.)
But it's in creating and organizing tasks that Todo really shines, offering many more features than Zenbe Lists or any of the basic to-do apps I covered a few weeks ago.
As with other apps, you can create multiple lists of tasks; you add new lists and tasks using the plus (+) button at the top of the main lists screen or any individual list screen, respectively. When viewing a list, tapping on a task's circle marks the task as complete; depending on your settings, completed tasks disappear completely or are moved to a Completed section at the bottom of the current list. For the latter approach, you can choose how long completed tasks remain visible (for example, a day, three days, two weeks, or a year), and you can pick one of 39 (!) different strikethrough styles (essentially, eye candy for how a completed task is "crossed out"). You can also delete a task completely.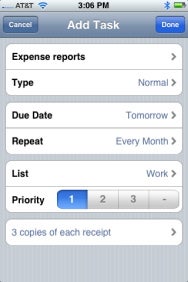 Creating a new task demonstrates Todo's best attribute: offering many options and features while keeping the interface simple and easy to use. In addition to naming a new task, you can specify a due date, a repeating schedule, and a priority (1, 2, 3, or none); you can also include a text note. The List option lets you assign the new task to any list, regardless of the list you were browsing when you created the task.
The final option available when creating a task is Type. This feature lets you specify an action to be performed: Call A Contact, Email A Contact, or Visit A Website. Choosing one of the first two lets you pick a contact from your iPhone's contact list; when it's time to complete your task, tapping on the task will call your contact or open a new email addressed to the contact, respectively. Choosing Visit A Website lets you enter a URL that will be opened in Safari when you tap on the task. (Tasks with types appear with special icons in lists.) These task types can be quite useful, although I had a couple complaints about the feature. First, the Contact options work only with an existing contact; you can't manually enter a new phone number or email address. Second, and conversely, the Website option doesn't integrate with your existing bookmarks; you must manually enter the URL.
Todo's main list view displays all lists, along with the number of incomplete tasks in each. Within each list, tasks are automatically separated by due date; within each time period, tasks are first sorted by priority, and then alphabetically. (You can't manually reorder tasks.) Priority and due date, if present, are displayed under each task's name.
Todo also offers a convenient All view that shows all tasks in a single list; the list containing each task is displayed beneath the name of the task. My favorite option here is the ability to filter the All list so that it omits items belonging to particular lists. So, for example, you can disable Exercise tasks in the All view.
My complaints about Todo are relatively minor. Although you can set due dates for tasks, Todo offers no alerts or reminders; you have to open the app to view pending tasks. I also wish the default Inbox list was automatically populated by tasks due today and/or with the highest priority; instead, it's just a standard list that can't be deleted or renamed. And although the Toodledo and Remember The Milk services offer Web-based list sharing, Todo doesn't let you share your lists directly with other Todo users; I still prefer Zenbe Lists for basic shared lists. I also had a couple minor interface beefs: First, when creating or editing a task, I often—out of habit, given my experiences with other iPhone apps—tapped the back-arrow button to return to the list, an action that actually cancels any changes you've made. Given that such a button is essentially an iPhone standard for returning to the previous screen, Appigo should label it Cancel as a warning—or, even better, make the button work as expected and change the Done button to Cancel. Second, Todo's sync button appears on individual list screens, but not on the main screen, which I found odd.
But these are small potatoes compared to what Todo offers: an appealing middle ground between simple to-do-list trackers at one end and complex Getting Things Done and project-management apps at the other. Its interface is straightforward enough for the most basic lists, but features such as schedules, priorities, notes, and contact linking will satisfy those with more-advanced needs. Despite the plethora of free alternatives, I found Todo to be well worth its $10 price tag.