Ambrosia Software on Thursday introduced WireTap Anywhere, a new audio tool for Mac OS X. It costs $129, and a free trial version is available for download.
WireTap Anywhere enables you to take the audio output from any Mac application or hardware input device and redirect it to your favorite audio recording application, using an intuitive visual interface.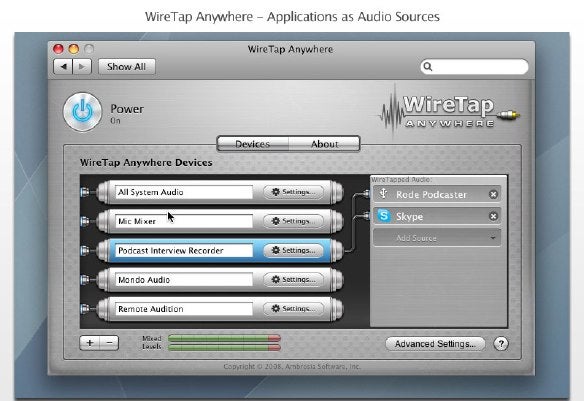 Practical applications for WireTap Anywhere include podcasting: You can use it to record both sides of a Skype or iChat conversation directly into an editing program like Peak. Or you could "pipe" the audio output of an application like Apple's Logic Pro over Skype for a friend or colleague to listen to.
You can create and edit WireTap Anywhere's "devices" directly from System Preferences, then change the input in your audio application of choice. You can mix any combination of apps and input devices into a single logical device.
The software requires Mac OS X 10.4.11 or later. It's a Universal binary.