At a Glance
Expert's Rating
Pros
Can block sites based on country domain
Cons
Outdated and non-intuitive interface
Overall program not Intel native
Often seems unpolished
Requires manual proxy setup for Firefox
Our Verdict
KidsGoGoGo 12.6 is a parental control and Internet filtering program that can block Web access as well as allow you to set time restrictions on Web browsers and applications. For $30, KidsGoGoGo has a few features that complement Mac OS X 10.5's Parental Controls. The problem is that you can't help but feel uneasy using KidsGoGoGo because of its outdated interface, odd feature execution, and a general feeling of inattentiveness from the developer.
It all starts with Maki's Web site. At this writing, the KidsGoGoGo Web page says that 12.6 is the latest version of the software, but in the left navigation pane, the release notes for what's new in the software address only version 11. Then there's the general tone of the site; it reads like it was written using a Web-based translation program—perhaps the same one the program uses to translate kids' sites.
After you download and launch the software, you'll feel like you slipped though a wormhole and traveled back in time. To say that KidsGoGoGo's interface looks dated is an understatement; the interface is reminiscent of pre-OS X software. The main window has icons that look decorative, and if you place your cursor over them, there's no highlight, rollover, or animation. Only when you click the icons can you access KidsGoGoGo's main features.
To top it off, KidsGoGoGo isn't a completely universal application. The app itself is actually a front end to multiple individual software components installed on your Mac. This front end is PowerPC native, which means that it runs using Rosetta on Intel Macs. However, according to Apple's Activity Monitor, the components that comprise the app are Universal applications. Also, when I opened Activity Monitor, I recognized nine different KidsGoGoGo components running on my 2.33GHz Core 2 Duo MacBook Pro. That seems like a lot of components, though I didn't notice any slowdown in my Mac's performance. Still, it seems odd for the front end of the app to be PowerPC only. Repeated requests to the developer for additional information and technical support were unavailing.
Filter features
Go below the interface and you'll find very few features that complement Mac OS X 10.5's Parental Controls. With filtering enabled, your two options are Stop Harmful Sites or Kids Sites Only. Maki Enterprise provides a database of adult Web sites to block, but there's no way of knowing how often the database is updated, when it was last updated, or what's on the list. Like Parental Controls, KidsGoGoGo lets you add sites that you want blocked, and you can also restrict browser access during a specified time period. One feature that KidsGoGoGo has that Parental Controls doesn't is the ability to block sites based on their geographical top-level domain.
The Web filters worked without a hitch in Safari, but for recent versions of Firefox, you have to go into Firefox's network settings and configure proxy settings, which are provided by Maki Enterprise. It's not a difficult task to perform, but other content filtering tools, like ContentBarrier X4 ( ) don't require you to do this.
KidsGoGoGo has scheduling features similar to those that are part of Parental Controls, in which you can limit access to the Internet and software to certain hours of the day. If you try to use a Web browser or app outside of the allowed time, the program still launches, but then abruptly quits, without an alert to tell you what happened. This feature could definitely be executed more elegantly.
There are some features that KidsGoGoGo can block that Parental Controls cannot: viewing online video, downloads, online shopping, and image/video searches, for instance. KidsGoGoGo can also block specified categories of Web sites, such as social networking sites and video/photo sharing sites.
KidsGoGoGo comes with the KidsIMMonitor program, which is supposed to record a transcript of iChat messages, but I wasn't able to make it work. Plus, you must have KidsIMMonitor on, just a like a regular program. It doesn't hide in the background, and it's visible in the Dock. What's to stop a smart kid from simply turning it off?
KidsGoGoGo also comes with KidsiPodMonitor, which can show you the contents of an iPod. But like KidsIMMonitor, it isn't discreet, and because of that, it's hard to think of why you'd use KidsiPodMonitor instead of iTunes to check an iPod's contents.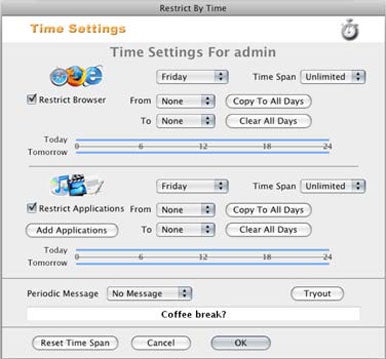 The software's most unique feature is its Screen Log, which gives you the ability to record what's happening on the screen. KidsGoGoGo can take a screenshot at any interval you pick (ranging from every three seconds to every two hours). The program then assembles the screen shots into an MPEG-4 file; it looks like a stop-motion video of your Mac's activities. The screen shots are taken unobtrusively in the background, but they can gradually consume hard drive space, especially if you have a large screen and want screen shots at short intervals.
The logs are basic, keeping a list of Web sites visited. The log feature in Mac OS X 10.5's Parental Controls offers more features, including the ability to track application and iChat use in addition to Web sites.
KidsGoGoGo includes a menu bar item that gives you quick access to Maki's preset selection of kids' Web sites, but there's no way to turn the menu bar on or off. It also displays a list of 22 different foreign language translators, of which you'll probably use few or none.
Macworld's buying advice
I'd really like to say that there's a lot of potential in KidsGoGoGo, but this Mac-only program, at version 12.6, has been around for years. You'd think that over that time KidsGoGoGo would've evolved into a more sophisticated program. But it hasn't. KidsGoGoGo feels like it could be so much more, with just a little bit of attention from the developer.
[Roman Loyola is a Macworld senior editor.]