For $10, you might wonder what you get with Gameloft's Chess Classics that you don't with other, less expensive iPhone games. The answer is, quite a bit. Chess Classics doesn't just give you chess, but it also provides a fun backgammon game. You also get loads of capabilities and options, mini-games and challenges. Unfortunately, the interface doesn't work that well and the graphics leave something to be desired, too.
The classic board games of chess and backgammon are well-represented here, both with 2-D and 3-D graphics options and several different themes to choose from (themes change the color and composition of the board and pieces). When you've turned on the 3-D graphics, you can also adjust camera control to spin or rotate the board and change the angle. It's a neat effect that shows off the iPhone's graphics processing capabilities, but it really doesn't benefit you at all.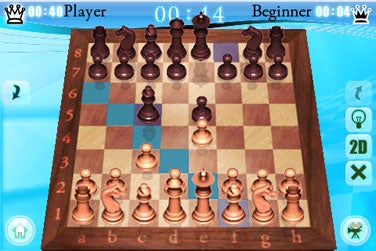 Gameloft bills the game as suitable for beginners or experts. Certainly the game's AI scales a bit, but tutorials are limited to telling you where pieces can go. There's a quiz mode that will also help you learn some rules and tricks along the way, but there's nothing comparable to a Chessmaster-like tutor that might give you a more advanced lesson on chess strategy.
You can compete against a friend (on the same iPhone or iPod touch) in a two-player mode, and play past tournament games in a Classic mode.
The game makes good use of the multi-touch interface – you can click on and drag pieces around—but I found that I often had to repeatedly drag pieces to where I wanted them to go to get them to the right place. Sure, I can magnify the board a bit in 3-D mode and do it that way, but I found that the graphics in 3-D mode looked poor close up—pixilated and chunky, and they didn't scale at all.
The addition of backgammon is a great diversion, and it increases the value of Chess Classics dramatically. It features many of the same capabilities and extras that you'll find in Chess Classics, including a two-player mode and different challenges that help you test your skill.
Chess Classics is compatible with any iPhone or iPod touch running the iPhone 2.0 software update.
[Peter Cohen is Macworld's Game Room columnist.]