Everett Kaser has announced that his suite of logic and puzzle games, formerly available only for Windows PCs, is now available for the Mac as well. There are two dozen games that Mac users can now try.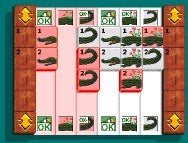 The software, which has been in development since 1989, includes games like Solitile — a solitaire Mahjong game, Sherlock — graphical logic puzzles, Knarly Mazes — similar to Minefield, Descartes Enigma and Descartes Rainbow — paint-by-number puzzles.
Kaser explained that in order to create the Mac versions of his games, he collaborated with Brad Oliver, a game programmer employed by Aspyr Media who's also responsible for maintaining the Macintosh version of MAME, the arcade game emulation software. Oliver ported Kaser's custom-made interpreter to Mac OS X to enable the games to run.