Canvastic LLC has announced the release of Canvastic 3.5, its writing, graphics and publishing tool for students in K-8 grades. It's a free upgrade for registered users; Canvastic costs $39 for a single-user license.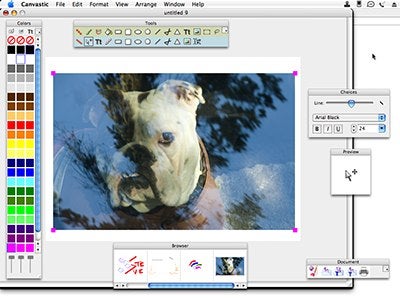 Canvastic helps students in academic computer labs to create graphics, text and presentation documents using a clear on-screen display, complete with tool icons and palettes and within the toy-like clutter of some other applications aimed at kids. The software was developed by a technology teacher who was looking for a tool that helped kids be creative without bogging them down with lots of frivolity or difficult-to-use features.
Canvastic 3.5 now adds an audio tool to allow for voice recording, iTunes integration and inserted sounds. It's also a Universal binary that runs native on Intel-based Macs.
The new release supports transparency and color tones; users can turn spell checking on or off; new brush shapes have been added; digital photos can be included and more.
Canvastic requires a G3 or better, Mac OS X 10.3.9 r later, 512MB RAM, 150MB hard disk, QuickTime and iTunes (if integrating audio).