Highpoint Technologies has announced the release of the RocketRAID 4320 SAS RAID Controller. It's a PCI Express (PCIe) host controller card that works in Mac Pros, late-model Power Mac G5s and other computers, and costs $699.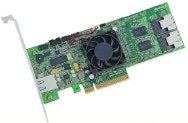 The controller is based on Intel's Xscale IOP348 processor, clocked at 1.2GHz. It's designed to operate with sustained transfer rates of over 1004MB/s read and 913MB/s write. It operates using Serial Attached SCSI (SAS), a high-speed peripheral interface.
The card supports RAID 0, 1, 5, 6, 10 and JBOD configurations, and handles automatic drive detection and automatic RAID rebuild. It features hard drive LED indicators, support for SNMP remote management and more.
The card itself is equipped with 2 internal mini-SAS/SATA 3Gb/s device ports, and can directly handle up to eight SAS or SATA hard drives simultaneously (up to 128 drives using SAS expander interfaces).