At a Glance
Expert's Rating
Our Verdict
Most laptop gear is designed to enhance your mobile life, but what about all those hours you spend using your portable at home? Today's Mobile Mac takes a look at a couple laptop accessories for your humble abode.
Belkin Laptop Hideaway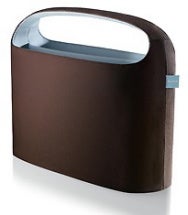 I don't know about you, but in our home, laptops are often used away from a desk—for example, on the couch, sitting in bed, or at the kitchen table. Belkin's magazine-rack-looking Laptop Hideaway offers a convenient and attractive solution for carrying your laptop and its accessories around the house—and for storing them when not in use. The rigid shell is covered in good-looking, snag-resistant fabric, with the inside lined with softer material over thick padding. One side of the Hideaway holds a 15.4-inch (or smaller) laptop; the other is split into two smaller pockets: one for your power adapter and other small accessories, the other for larger accessories or books and magazines. The handle on top makes for easy room-to-room toting.
The Hideaway is surprisingly sturdy and stays upright even when fully loaded. It also looks good, although an all-brown design, instead of brown and blue, might have been a better match for the furnishings in many homes.
Kangaroom Bamboo Laptop Stand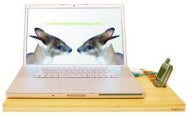 Unlike many of the laptop stands we've reviewed, Kangaroom's Bamboo Laptop Stand isn't designed to lift your notebook up to an ideal working height (or at least that's not its primary purpose). Instead, the ecologically-friendly platform—it's made of sustainable bamboo—aims to keep your desk free of wires and gadgets. On the right-hand side of the stand are two "cradles," each 3.2 inches long, 1.4 inches wide, and 1.5 inches deep, with an opening at the bottom for a charging/docking cable; you pull the cable for your iPod, iPhone, or other phone or portable player through the opening, plug it into the device, and then rest the device in the cradle. (Unfortunately, there are no clips or grooves inside the cradles to keep your cables from falling underneath the stand.)
To further reduce cable clutter, the back of the Stand is open for hiding a surge protector—not included, although Kangaroom sells an appropriately-sized model for $13—underneath. You then plug all your power adapters into this power strip to keep them, and their cables, hidden beneath the Stand. There's also a large opening in the middle of the Stand to provide ventilation for your laptop.
The Bamboo Laptop Stand is quite solid; its wood is attractively finished; and its overall width—20 inches—isn't much wider than a 15-inch MacBook Pro sitting next to an iPod dock. (The Stand is 12 inches deep.) However, the Stand's low height, just 3 inches in the rear, has a couple consequences. First, it doesn't quite raise your laptop's screen enough on an typical desk. Second, and more important, given the Stand's advertised benefits, is that this low height doesn't provide enough room for larger power adapters, such as Apple's laptop adapters, to fit underneath when plugged into a power strip. I also wish the stand provided features for keeping your laptop cables—USB, power, network, and the like—organized and to prevent them from falling behind your desk when unplugged.
(Kangaroom claims you can use the Stand on your lap, but I didn't find that to be the case, given the Stand's open-bottom design.)