At a Glance
Expert's Rating
Pros
USB cable curls up inside easy-to-open body
Both wireless and wired operation
Excellent tracking performance
Cons
No button-customization options
Cable too short for comfortable right-handed use on left-ported notebooks
Flimsy cover for dongle's mini-USB port
Our Verdict
After wrestling open the Kensington Ci75m Wireless Notebook Mouse's hideously wasteful and dangerously sharp-edged plastic packaging, you're greeted by a pleasant surprise: Not only are the sleek, slim mouse's two AAA batteries included, but they're brand-name alkalines and not cheapo lead-acid no-names. What's more, they slip easily into the Ci75m due to its magnetic latch, which makes popping it open a cinch.
When open, the Ci75m reveals its dual nature: coiled inside is a two-foot USB cable that can be used in case of the unexpected demise of those batteries, or if you should find yourself in an RF-forbidden zone. The USB dongle that enables the mouse's 27MHz wireless RF connectivity is nestled in a slot on the Ci75m's underside.
The dongle doubles as the connection point for the USB cable's mini-USB jack, and slipping it into its in-mouse slot for traveling puts the Ci75m to sleep—a nice touch.
The next surprise, however, is less pleasant. Kensington's excellent MouseWorks software is not included in the package, and for good reason: it doesn't work with the Ci75m. You're limited instead to Mac OS X's Keyboard & Mouse System Preferences pane, which allows control over only the right-click/left-click behavior of the Ci75m's two buttons, plus adjustment of tracking, scrolling, and double-clicking speed. Also, you can't assign an alternate behavior to the scroll-wheel button; clicking it is hardwired by Mac OS X to activate Exposé, which is better than nothing.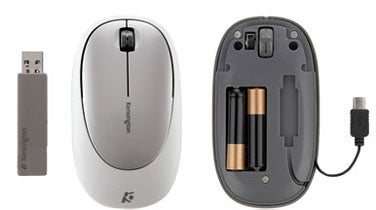 Despite its small size and light weight (three ounces), the rubberized body of the Ci75m feels sturdy and balanced. Its 1,000-dpi tracking proved exceptionally accurate in even my most delicate pixel-pushing, its buttons are firm but not too stiff, its ratcheting scroll wheel responds to just the right amount of pressure, and an in-wheel light warns of low batteries.
Macworld's buying advice
Wired or wireless, the Kensington Ci75m Wireless Notebook Mouse is a great traveling companion. Solid, comfortable, accurate, and attractive—it's available in orange, grey, white, or black—the Ci75m would be a boon buddy for your 'Book.
[Rik Myslewski has been writing about the Mac since 1989. He has been editor in chief of MacAddict (now Mac|Life), executive editor of MacUser and director of MacUser Labs, and executive producer of Macworld Live. His blog can be found at Myslewski.com.]