Those accustomed to thinking of iPhone and iPod touch applications as stripped-down mini-versions of desktop applications need only spend a half hour with BeatMaker, Intua's mobile music-creation application, to change their minds. With its multiple screens—including screens that offer 16 drum pads for triggering samples, song sequencer, effects (FX), waveform trimming, and an editing screen for adjusting velocity and groove—BeatMaker is anything but a bare-bones mobile application. BeatMaker is deep—though clearly still a work in progress.
BeatMaker looks nothing like your typical iPhone application. You're not going to find interface elements that resemble anything within Apple's default apps—even the keyboard is a custom job. Instead, you have a series of screens accessible from buttons on the program's Home page as well as from the Navigation bar that pops down from the top of the display when you tap the BeatMaker icon. Within that toolbar you find buttons for accessing the Pad, Sequencer, and FX views. Buttons on the Home page let you load kits (collections of samples mapped to the drum pads). At the bottom of the screen you tap yet another icon to produce the Transport bar, which contains Stop/Play, Record, Loop, and Metronome controls as well as readouts for BPM (beats per minute) and bars and beats.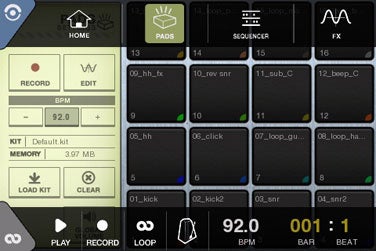 You're likely to spend much of your time in the Pad view where you can trigger up to 16 samples (and up to five simultaneously) by tapping a four-by-four layout of virtual drum pads. Just tap the Load Kit button found on this screen, choose one of the pre-made kits, and start tapping to trigger the samples assigned to the pads. With the assistance of Intua's free (and beta) BeatPack application, you can create kits on your Mac or Windows PC using samples of your own and then import those kits to BeatMaker. The pads aren't completely responsive—there's a bit of latency between the time you tap a pad and when it sounds.
Within Pad view, you'll find controls for recording patterns, changing the global volume of the kit as well as the tempo of the recording. Tap an Edit button and you can change the pitch of each sample, but it's not very musical as doing so also changes its duration—increase the pitch and the sample plays faster, decrease pitch and the sample slows down. Additionally, you can select a sample and edit it as a waveform within a separate screen—dragging your finger across it to trim the front and back.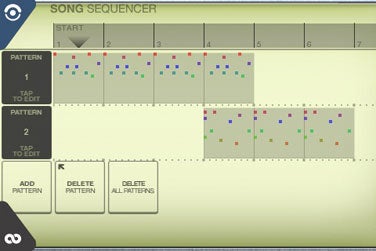 Recording from the Pad view is a little cumbersome because you can only record one measure at a time (and a 4/4 measure at that as the program doesn't support other time signatures) and, as I said, latency can be a problem. You can ameliorate the latency issue somewhat by taking advantage of the program's overdub feature. Like a lot of beat sequencers, this one records in a loop, adding parts as you bang on the pads. So, you could create a pattern closer to being in time by tapping a pad with a bass drum mapped to it on beats 1 and 3 and then, on the next pass, tapping a snare pad on beats 2 and 4.
For more accurate recording, you're better off using BeatMaker's sequencer, which is made up of Step Sequencer and Song Sequencer screens. Within the Step Sequencer, to create a pattern you tap a segment of a timeline (made up of 16, 16th note segments) to trigger a particular sample on that beat. For example, in the line that corresponds to Pad 1, tap beats 1 and 3 to lay down the kick drum and, on a third line mapped to Pad 2, tap beat 1 and 3 for the snare. Then in the Song Sequencer you enter patterns you've created by tapping measures on a grid next to each pattern. You can repeat patterns by dragging a Start/End bar at the top of the screen.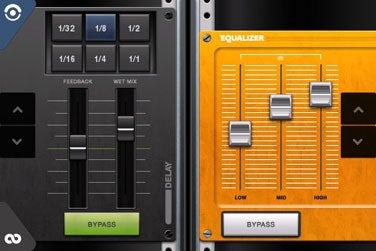 Once you've recorded a sequence you're welcome to route it through the FX section. Effects include delay, three-band EQ, and BitCrusher—an effect that adds a gnarly distortion. You enable effects by disabling a Bypass button (yes, a little counterintuitive) and you can apply varying degrees of processing with the Delay and BitCrusher effects.
When you've put together your track you can then save it as a project. Once saved you can export it to your computer as a WAV or MIDI file via the BeatPack application.
BeatMaker, in its current form, is challenging for a couple of reasons. The first is that in some places it feels unfinished. For example, when using the Step Sequencer it would be great if you could hear the sample you're triggering when you tap in the timeline—but you can't. This can be a problem given that you have 16 different samples (and their accompanying timelines) to keep track of. You can tap in an event, play the sequence, and hear what you've done, but a live trigger when you tap would be welcome. Or, while in Pad view you trigger a pad and then think better of it. Removing that trigger is confusing—requiring that you move to a Record pane and use a Clear button to get rid of the triggered event. And, of course, there's the triggering latency issue in Pad view.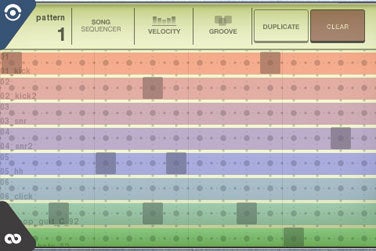 And then there's the depth of the application and the many screens necessary to provide that depth. BeatMaker is not an easy application to wrap your head around. It requires a lot of time playing with the interface and familiarizing yourself with what goes where and how Intua parses the program's power.
Fortunately, with version 1.0.2 of BeatMaker, Intua released an updated and greatly improved manual—and it needed it. The previous manual was too short on detail and not as organized as it could be. Still, the new manual would benefit from a a couple of simple tutorials—step-by-step instructions for loading a kit, recording a few patterns, stringing those patterns together to create a project, and exporting the project to your computer.
There is some remarkable and musical stuff going on within this application. And for $20, it's a steal. BeatMaker needs a little finish work—dealing with those latency issues and making the interface and operation more intuitive. But even in its current state it's well on its way to becoming a killer iPhone app that any beat maker would be proud to own.
BeatMaker is compatible with any iPhone or iPod touch running the iPhone 2.0 software update.
[Senior editor Christopher Breen follows all muscial matters at the Playlist blog.]