A longstanding tradition in medicine rewards people by naming diseases, procedures, and other noteworthy discoveries after them. Alas, remembering them all is a huge headache for anyone who's studying medicine or any related field. Pascal Pfiffner's Eponyms for the iPhone and iPod touch makes the job easier by providing a searchable catalog of more than 1,600 medical eponyms.
Dr. Andrew Yee maintains and periodically revises the database, which is stored locally–that means that you don't need an active Internet connection to access it, although updates are transmitted to the iPhone wirelessly.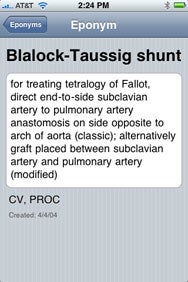 The main screen lists 26 categories arranged by medical specialty, including special ones for syndromes, signs, and procedures, and one that lists all the eponyms in alphabetical order. Once you've selected a category, an index on the right side lets you jump to any letter, and a search icon at the top lets you look for eponyms than contain specified text. Tapping on an entry shows a brief description of the eponym along with its creation date.
In my spot checks, the descriptions were concise, well written, and accurate, though I was a bit disappointed to find only 22 entries and one error in my specialty, diagnostic radiology. ("Rigler's sign" is misspelled "Riggler's.") And, on my iPhone, the erase symbol next to the search box sometimes responded slowly to a tap.
But those are minor quibbles considering that Eponyms costs next to nothing and is valuable for anyone in healthcare. (Pfiffner offers a free version for students, but even if you're eligible, $2 is a small price to pay.) Unless you're blessed with perfect recall, Eponyms is a must-have.
Eponyms is compatible with any iPhone or iPod touch running the iPhone 2.0 software update.
[Franklin N. Tessler is a university professor and radiologist who lives in Birmingham, Alabama.]