Mercury Software Japan on Monday introduced new iTabi cases for the iPhone 3G. Each case costs $19.98.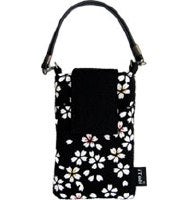 The iTabi — named after traditional Japanese socks — is made of kimono cloth and comes in ten different designs. The designs range from Asaba, hemp flowers on a cream background, to Taisho Retro, a 1920s-style floral design.
Each case comes with two straps — one is short, the other shoulder length and adjustable. They permit use of the headphone jack, and protect the screen from damage using nylon padding. A front pouch lets you store headphones, lipstick or mascara.