There are those who bemoan the lackluster camera on the iPhone, and there are those who decide to do something about it.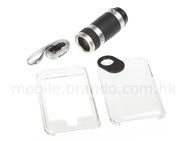 The iPhone 3G Mobile Phone Telescope is composed of a clear acrylic case that you snap onto your iPhone 3G, and an attachable lens which promises to give the built-in camera a 6x zoom. Point your iPhone at something far off, manually focus the telescope lens, and snap your photo. The telescope apparatus comes off the case, so you can still pocket your iPhone with ease, but what do you do with the lens? That's where the included lanyard comes in: simply wear the lens around your neck for easy access and, did we mention, fashionability.
The example photo doesn't look bad (though I probably would have picked a different subject for the photos myself—take close-ups of ramshackle hovels with ease!), and if you have an extra $19 around I don't suppose this purchase will do much harm. I can't help but think that this solves a problem that doesn't really exist though. Are lots of people out there clamoring for a 6x zoom for their iPhones? Sound off below.
[via CruchGear]