Brian Wurster has released a puzzle game for the iPhone called Tangrams. It costs $2.99.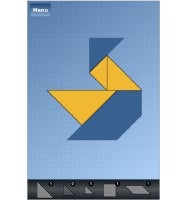 An updated version of the classic Chinese puzzle game, Tangrams has you try to arrange the seven shapes — called "tans" — into a variety of forms, often representing animals, people and other interesting shapes. Your goal is to arrange the geometric pieces into a puzzle silhouette.
More than 400 puzzles are included, and the game includes a hints engine that will give you tips on where to put which pieces when you get stuck.
Tangrams supports iPhones and iPod touches running 2.0 software.