At a Glance
Expert's Rating
Our Verdict
Editor's note: As we noted last week, our Summer of Mac Gems has officially ended. We're now back to our usual two-Gems-a-week schedule
You can use iTunes to convert audio files from one format to another, but it's a bit of a hassle and the number of supported formats—for both input files and output—is limited. Ah, if only there was an audio version of the excellent VisualHub ( ) video-conversion software, right? As it turns out, the folks who brought us VisualHub, Techspansion, have applied their considerable talents to the field of audio. The result is AudialHub, a similarly-easy utility for converting audio files.
To convert files using AudialHub, you just drag the files into the program's window, choose the output format, and click on Start. Over 20 input formats are supported, and output formats include AAC, AIFF, Apple Lossless, FLAC, MP3, Ogg Vorbis, WAV, WMA, and 3G. (A unique feature is that AudialHub can also extract and convert the audio track[s] of many video files.) For lossy output formats, you can choose the audio quality of the resulting file; a useful Preview palette lets you hear, in real time, how your settings affect the resulting audio quality. The conversion process is surprisingly fast, and if you've got a multi-core Mac, AudialHub can process multiple files simultaneously.
AudialHub can perform various post-conversion actions. For example, you can choose to stitch the resulting audio files into a single file; add the files to iTunes as audio tracks, audiobooks, or ringtones; sleep or shut down your Mac; or run a script.
Like VisualHub, AudialHub includes an Advanced Settings palette that lets you customize your conversions. For example, you can choose the bit rate, channels, maximum file size, decoder, and more; advanced users can even enter specific FFmpeg and afconvert flags. You can also modify metadata tags and automatically trim each file. AudialHub lets you save and load groups of frequently-used settings, a useful feature for processing similar files.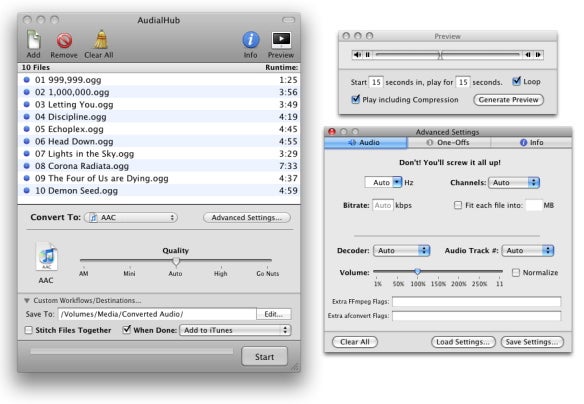 AudialHub can also rip CDs directly. To do so, you just open a mounted CD in the Finder and drag the audio files from the CD into the AudialHub window. Going the other direction, AudialHub can take audio tracks you've dragged into the program's window and burn them to an audio CD or an MP3 CD; the program automatically converts the tracks to the appropriate format before burning the disc.
As with VisualHub, AudialHub's documentation comprehensive and clear—something that can't be said of many (most?) inexpensive audio programs.
That said, unlike VisualHub, AudialHub has some stiff competition in the inexpensive-audio-conversion market. Namely, Stephen F. Booth's Max ( ; donations accepted), which we previously reviewed. How do they compare? Briefly, Max offers more output formats (although, to be fair, most of the additional ones are relatively obscure); provides more options for tagging files; can download album art and CD info directly (AudialHub uses iTunes for this); can convert CD tracks to multiple formats at once (for example, uncompressed for playing in your home audio system and compressed for use on an iPod); and includes tools for accurate ripping of less-than-perfect CDs.
On the other hand, AudialHub's interface is simpler and easier to use than Max's. And unique features include the aforementioned live preview, saved settings, and automated file trimming; as well as better information about source audio files. Overall, Max is the way to go if you work with, or need to convert to, obscure audio formats or if most of your audio-file converting involves CDs—especially older, beat-up discs. But for converting existing audio files, or extracting audio tracks from video files, I prefer AudialHub, despite its higher—but still affordable—price.
AudialHub 1.07 requires Mac OS X 10.4.11 or later.