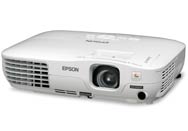 Epson today released four new projectors. Three of the new projectors are part of Epson's EX series, while the fourth is an all-in-one multimedia projector. All four are targeted at the mobile business market.
The new EX31, EX51, and EX71 projectors replace the EX30, EX50 and EX70, respectively. According to Epson, the new projectors have brightness ratings of 2500 lumens and use 3LCD technology. Epson also says that the new projectors are 30 percent smaller and 20 percent lighter than their predecessors.
The EX31 natively supports SVGA resolution, while the EX51 supports XGA resolution. The EX71 offers widescreen WXGA resolution.
The EX31 ($549), EX51 ($649), and EX71 ($749) will be available this month.
The new PowerLite Presenter features a projector, a DVD player, and a pair of 10-watt speakers in one unit.
The PowerLite Presenter has a projector that supports WXGA resolution, and has a brightness of 2,500 lumens. Like the EX series, the PowerLite Presenter also supports 3LCD. The projector also has a automatic color correction mode tht works based on the lighting of the room.
The PowerLite Presenter has a USB port for connecting storage devices with JPEG images, or for digital cameras, camcorders, or game consoles.
The PowerLite Presenter will be available later this month for $899.