Speck is shipping their SeeThru hard shell cases for the iPhone 3G. The cases each cost $29.95.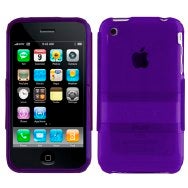 SeeThru cases are translucent, available in clear, pink, black, red or purple. They provide full access to the iPhone's controls and camera while protecting the back and sides from damage or dirt.
Rubberized no-slip finger rails are on the side, and the SeeThru case snaps on with a two-piece design. The SeeThru also doubles as a stand, allowing you to prop your iPhone on a vertical surface in "landscape" orientation to watch movies or other activities.