Lo, Jobs gave us the iPhone and it was good…well, it was pretty good. As soon as people got their sticky fingers on an iPhone it was clear one thing was missing: copy-and-paste functionality.
Third-party app MagicPad snagged headlines not long ago by coming up with their own method for copying and pasting and, while that was all well and good, how much use can you really get out of copying and pasting in a single program? In the end, it was little more than a novelty. Copy-and-paste truly shines when you can take a piece of info from one app to another. Apple's Greg Joswiak said that the company is aware of demand for the feature, but it isn't a high priority.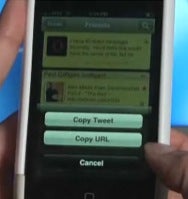 That's where OpenClip.org comes in. OpenClip is an open source framework that enables copy-and-paste between supported applications (that is, applications that have the OpenClip framework baked into them). It works by using a small part of the iPhone's storage as a central repository for clipboard information. Any application that uses the OpenClip framework, a list of which can be found here, will be able to copy and paste information back and forth.
The video demo on their site is compelling, but it is unclear how the developers behind OpenClip will be able to share this code without violating the iPhone NDA (I'm not a lawyer, nor do I play one on the Internet). The other shortcoming of OpenClip is the fact that it isn't a part of the iPhone OS itself. It requires developers to use a third-party framework, which means eventual re-coding when Apple finally caves to the pressure and adds systemwide copy-and-paste themselves.