At a Glance
Expert's Rating
Our Verdict
If you ever have the need to make a visual timeline—for a presentation, as a teaching aid, or for use in a home movie—you'll want to check out Bee Documents' Timeline. This unique program makes it a snap to create an attractive timeline: First you choose from among seven templates, and then you choose the source for your timeline's events. Clicking on Create Timeline lets you choose several options about your chosen data source, and then your timeline is created. Timeline automatically chooses the "best" layout for your events.
Supported data sources include your Address Book (for a timeline of birthdays), iCal (for calendar events), iPhoto or Aperture (for a timeline of photos based on date), iTunes (to view songs or albums by the last date played), and RSS feeds (for a timeline of articles by date). Another nifty option is System Profiler, which creates a timeline showing the dates and times you installed every Apple software update in a given time span. You can instead choose a blank timeline for adding events manually. (I had some problems with the iPhoto option, which sometimes didn't find any photos in the selected date range.)
One you've created a timeline, you can customize it by choosing different fonts, colors, background images, and more. And, of course, you can easily add and delete events. Each event can have a title, date and time (or a date range), notes, a URL (a link to a Web page or a local file), and an image. A built-in photo browser makes it easy to add photos from your iPhoto library, or you can simply drag an image into an event; Timeline automatically scales the image to fit the timeline, or you can resize each image manually.
Another useful feature, Event Rows, lets you display multiple timelines at once; for example, to compare two sets of events. Unfortunately, only the first row—the original timeline—can import data automatically; you have to add events to additional rows manually. (You can, however, drag and drop events between rows.)
A Bulk Edit mode lets you view and edit events in a list view; a Presentation feature lets you show and navigate your timeline in full-screen mode; and you can export your timelines to PDF documents to share them with other people. Timeline also supports AppleScript for automated timeline creation.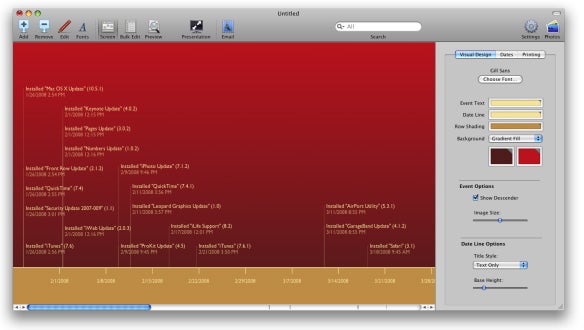 A drawback to Timeline's ease of use is that it's also a bit limiting. For example, if you don't like Timeline's automatic layout, you're out of luck; you can't manually reposition events or timeline elements, nor can you compress or expand the timeline. You also can't change your timeline's theme once it's created. I also wish you could import a textual list of events. Finally, although you can change the date format in your timeline, you can't force Timeline dates to include, for example, the days of the week.
Still, for ease of use and attractive output, Timeline's tough to beat. (A $65 3D version, Timeline 3D, lets you create 3-dimensional timelines.)
Timeline 2.1.3 requires Mac OS X 10.5 or later. (Timeline 1.6, which works with pre-Leopard versions of Mac OS X, is still available; however, we haven't reviewed it.)