Speck on Thursday announced the release of the ToughSkin case for the iPhone 3G. The case costs $34.95.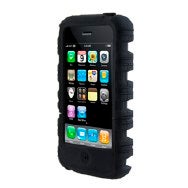 A rugged rubber sports case designed to give the iPhone 3G maximum protection, the ToughSkin sports a heavily textured exterior that almost looks like a truck tire. The textured pattern helps you keep a grip on the ToughSkin and keeps the iPhone from getting dinged if it's dropped.
The bottom part of the case is on a hinge to make it easy to dock the iPhone while it's still in the case, and a removable holster/belt clip is included. The holster/belt clip rotates for use as a tabletop stand, as well.