The iTunes Store may be a great place to stock up on video content for the iPod, iPhone, and Apple TV. But why spend extra money when you've already got a vast collection of DVDs, home movies, and other video files at your fingertips? With the help of some free or low-cost software, you can convert these videos into compatible files that you can enjoy in the living room, on the train, or at the gym.
Rip DVDs
Before you dive in, remember that this is a gray area, legally speaking. Because ripping commercial DVDs circumvents the copy-protection system employed on these discs, the legality of using this type of software is questionable—even if you own the DVD and are ripping it only to watch it in another form. You'll have to assess the risks yourself; if you decide to take the plunge, read on.
For this task, we recommend using the free HandBrake 0.9.2 ( version 0.9.0 ). This most-recent version of the program supports PowerPC and Intel Macs running OS X 10.5 only (you can also download an earlier version that works with 10.4, although some features may not be the same as those mentioned here).
Open or decrypt DVD Insert your DVD and launch HandBrake. To make it easier for iTunes to accept your file, open HandBrake's preferences and select the Use iPod/iTunes Friendly (.m4v) File Extension For MP4 option in the General section. Also select the option to Use Chapter Markers For MP4 to preserve the chapters from your DVDs by default.
When you launch HandBrake, it will drop down a navigation sheet that will let you pick your DVD. Click on the DVD's name and then click on Open to scan the disc. HandBrake should automatically pick the movie—the longest title on the disc—but if not, select it from the Title pop-up menu.
If HandBrake can't read the disc (this sometimes occurs with recent DVDs that have special copy protection) download a free copy of MacTheRipper 2.6.6, which is more adept at bypassing DVD copy protection. If that doesn't work, as may happen with newer DVDs, you can access a newer version of MacTheRipper by joining the Web site's forums and contributing money toward the software's development. Once you've ripped an unencrypted version of your DVD to your hard drive, launch HandBrake and open the VIDEO_TS folder of the disc you've extracted.
Pick a preset Files have different limits depending on the encoder used and the hardware you'll play them on. For example, video-capable iPods and iPhones can handle H.264 files with a maximum resolution of 640 by 480 pixels, and the Apple TV can play H.264 files up to 5 Mbps at 1,280 by 720 pixels at 24 frames per second, or 960 by 540 pixels at 30 fps. (Each product's tech specs page has all the details, but in our tests, we've gotten files with even higher specs to play on the Apple TV, so use these limits as guidelines.) Luckily, HandBrake includes presets for all Apple devices mentioned here, which use the H.264 codec by default (we recommend choosing H.264, because it typically gives you better-quality video at lower bit rates).
To access them, click on Toggle Presets at the top of the HandBrake window (if you only see a few items listed, select Presets: Update Built-In Presets—especially if you've had an earlier version of HandBrake on your Mac in the past, you might not have all the presets loaded). Depending on which device you're converting for, choose one of the following presets: AppleTV, iPhone / iPod Touch, iPod High-Rez, or iPod Low-Rez. Each one will create an H.264-encoded file, but with different settings (video bit rate, output dimensions, and so on).
Tweak your settings In my experience, the bit rates HandBrake chooses for its defaults are usually higher than they need to be, especially if you're going to watch a movie on an iPod or iPhone screen. If space is at a premium on your device, test out encoding with lower bit rates—in fact, you can experiment with several different settings without encoding an entire movie each time by testing them on just one chapter. To do so, pick the same number in the Chapters area—for example, Chapters: 3 to 3. You'll even see the duration of the chapter so you know how long of a section you're encoding.
For the iPhone or iPod touch, if you prefer to take advantage of the entire screen while watching movies—and plan to use the device's double-tap-to-zoom feature—consider using a height higher than whatever HandBrake picks to go along with a width of 480 pixels. To do so, click on the Picture Settings button in the lower right corner of HandBrake's Video tab, and make sure Keep Aspect Ratio is selected in the window that opens. Now click repeatedly on the up arrow next to the height measurement until the height is close to 320 (because of the aspect ratio, you may not be able to reach that number), then click on the Close button. But keep in mind that a larger frame size means a larger file size as well.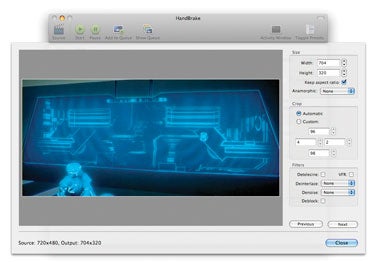 After you've picked your video settings, you'll still need to pay a visit to the Audio & Subtitles tab. Once you're there, make sure that HandBrake has selected the proper language track in the Track 1 pop-up menu, and leave the rest of the settings as they are. When ripping a DVD for an Apple TV, HandBrake's preset includes by default both an AAC and AC3 audio track. AC3 preserves a DVD's 5.1-channel surround sound audio track if it has one, which is great if your Apple TV is connected to a multiple-channel setup. If you don't have a surround sound system (or don't care for the AC3 track), you can change the options in the Codecs pop-up menu to rip only AAC, which will save you a little space in the resulting file.
Finally, if you plan to view any of your ripped DVDs in more than one place—that is, on your iPhone and your Apple TV, for example—you should consider ripping your files in a format that will serve multiple needs. Setting the iPod High-Rez preset to include AAC and AC3 audio, for example, will give you a file that's slightly bigger than it needs to be for an iPhone, but with a high enough bit rate and frame size to look good on a TV (with the added bonus of the surround sound track). You can even save your own presets after experimenting to find what works best for you.
Encode You're ready to rip. Enter a file destination and name in the File field, and click on Start. Depending on the movie's length and your computer's speed, this can take several hours (H.264 encoding is very processor intensive).
For TV episodes If you want to rip several elements from one DVD—TV show episodes, for example—choose the settings you'll want for all episodes, and find all the titles that are similar in length (around 22 minutes for a half-hour show and 43 minutes for a one-hour show). Pick the first title you want, name the file, and click on the Add To Queue button at the top of HandBrake's window. Repeat this for other episodes, giving each a unique name. When you're done, click on Start and let your Mac do the rest of the work.
The other thing to keep in mind, especially with TV shows on DVD, is the fact that some may have an interlaced picture. That's where the odd and even fields of a frame alternate rapidly, rather than display progressively from top to bottom. Interlacing looks fine on CRT televisions, but the result on an LCD or plasma TV can be ugly motion artifacts. To rectify the problem in HandBrake, you can choose one of the Deinterlace options after clicking on the Picture Settings button (for more information, visit the HandBrake Deinterlacing Guide).
Convert hard-drive videos
Of course, videos aren't limited to DVDs. Your hard drive is probably brimming with video files you might like to carry with you on your iPhone. If you can open a file in QuickTime, you can use the Movie To Apple TV, Movie To iPhone, or Movie To iPod export command in the $30 QuickTime Pro to create a video that will play on those devices. But Apple's conversion doesn't support all file types, doesn't have a batch-encoding feature, and won't let you change its settings. For more flexibility, check out Techspansion's $23 VisualHub 1.34 ( version 1.1.7 ), which includes options for encoding files meant for the Apple TV, iPhone, and specific iPod models.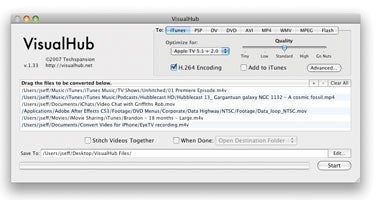 Launch VisualHub, click on the iTunes button in the To section at the top, and then select both the device you're targeting in the Optimize For pop-up menu and the H.264 Encoding option (otherwise your video will be encoded as an MPEG-4 file). Next, drag a file or a number of files into the center pane (VisualHub works with many different file types, including several that QuickTime can't) and click on Start. If you're not happy with the results, you can move the Quality slider to High or Go Nuts. As with HandBrake, VisualHub lets you choose which types of audio tracks to include with Apple TV encoding.
[Senior News Editor Jonathan Seff rarely watches actual DVDs anymore.]