Except for China—where Apple is in ongoing negotiations—Russia remains the largest country in the world without an iPhone distribution deal. While the first-generation handset was popular on the Russian gray market, with no less than President Dmitri Medvedev calling the device "his latest passion", the 3G model has yet to come to the motherland.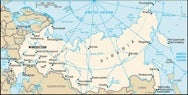 Such a eventuality, however, could be in the offing. Reuters reports that Apple has struck a deal with Mobile TeleSystems (MTS), the largest cell phone provider in Russia. MTS has almost 84 million subscribers, making the company's customer base larger than several of the countries where the iPhone 3G is already on sale. If Reuters's source is correct, then the iPhone would launch in Russia in October, possibly amid another next round of country additions, like the ones due tomorrow.
Both MTS and Apple have unsurprisingly declined to comment on the issue. But I'm sure if and when the iPhone 3G does go on sale in Russia, the Red Square lines will wrap all the way around Lenin's Mausoleum.