One of the most frequently voiced complaints about the iPhone since its introduction last year has been a lack of instant messaging support. There are plenty of workarounds, to be sure, but they ranged from potentially expensive (like using the iPhone's SMS system) to slow (web-based applications) to illicit (clients that ran on jailbroken phones).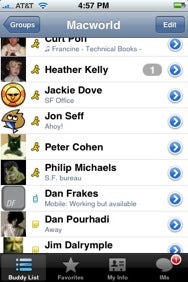 But along with the launch of the App Store also came the first official native instant-messaging client, AOL's free AIM, as well as a brand new $64,000 question: was it everything that instant messengers in search of a constant connection had been dreaming and hoping for? Life, unfortunately, is constantly full of disappointments. So while the answer is probably not, the client is actually quite good at what it does, despite some noticeable limitations.
Let's get one thing out of the way right up top: AIM on the iPhone is not going to be a replica of your usual desktop chatting experience. With Apple's prohibition on background applications, you can only use AIM when it's in the foreground; at WWDC, Apple announced plans to roll out a push-notification system in September that will allow users to be alerted when messages arrive, even if AIM isn't active.
Launching AIM for the first time will prompt you for login credentials—AIM supports only its eponymous network, though .Mac/MobileMe usernames will work as well. The application does not support logging in under multiple accounts simultaneously and if you want to switch to another account, you'll have to navigate to the iPhone's Settings application and change the information there. That's annoying for those who maintain multiple accounts, but it's also the way Apple asked developers to implement preferences.
In those settings, you also have the option to deactivate AIM's sounds (though the iPhone will still vibrate every time you receive a message unless you turn vibrate off entirely) and decide whether your account should be signed out when you leave the program. If you leave the last setting to "Off," then your account will continue to receive messages when you quit the app, though you won't see them until you launch the program again.
Once you're logged in, you'll have access to your complete AIM Buddy List, including groups. You can view any user's profile by tapping the small blue arrow next to their name, send them a message by tapping on their name, or add them to a list of favorites, just like in the iPhone's Phone application.
While you can edit your Buddy List and groups from the phone, I was wary of doing so, since nowhere is it spelled out precisely what happens when you make those changes. Removing a buddy does seem to remove them from your master Buddy List, but the change can take some time propagate. For example, a buddy I deleted in AIM still showed up in Adium on my MacBook for a while.
Also, while the groups list their total members and how many are currently online, they only display the names of those who are logged in—there's no way to find out which offline contacts are in a group without going through your whole list of contacts one-by-one.
Another gripe is that the Buddy List shows only the screen names of your contacts, not their actual names—unless you've manually entered an actual name into the Nickname field in your Buddy's profile. It would be awfully nice if AIM could pull the actual names from the iPhone's contacts, but upon investigation it appears that IM screen names are not actually synced between your Mac's Address Book and the iPhone. So it's a good thing that the Buddy List also displays status messages and icons for all your buddies; it makes it a wee bit easier to remember who, for example, "macluvr038201" is. And if you have buddies who use multiple screen names, there's no way to group them as one contact, like many desktop IM clients allow.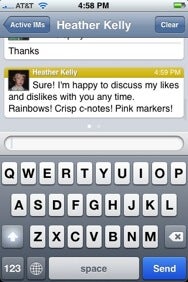 Sending messages with AIM is simple. Tap any contact and the chat interface will slide in with the iPhone's touch keyboard primed and ready. Messages are attractively displayed with time stamps and buddy icons, and are easy to read. You can scroll through your chat history by flicking a conversation up or down.
AIM also lets you carry on multiple conversations simultaneously, conveniently grouping them in one Active IMs section. You can flick back and forth between chats by swiping your finger left or right when in a conversation (the number of dots at the bottom tells you how many chats you have open), or by jumping back to the Active IMs section and choosing any of the contacts listed there. AIM will even tell you how many messages are waiting.
If you want to send a message to someone who's not already on your Buddy List, you can tap the new message button under the Active IMs section and you'll be prompted to enter a screen name or an SMS number. Unfortunately, if you want to do the latter, you'll have to have the phone number memorized or written down, since this section doesn't tie in with the iPhone's contact database either.
One of the major failings of AIM is its total lack of support for any non-text messages. There will be those who complain about the lack of video chat and VoIP, but I really don't find either of those things practical for the iPhone. (I only rarely want to do them on the desktop.) I'm more concerned with the types of content I do receive more frequently: specifically hyperlinks and pictures.
Hyperlinks are treated like any other plain text in AIM; you can't tap on them to open the link in another application. Given that would mean quitting AIM and opening Safari every time you wanted to view a link, that would be understandably annoying, but it might still be less annoying than having to write down the URL on a piece of paper (yet another place the iPhone's lack of copy-and-paste becomes a glaring omission). Other developers have solved this problem in creative ways, such as Twitterrific ( ), which builds in its own mini Web browser.
The inability to send or receive images is less dire, but it would be a nice touch, given the iPhone's built-in camera and the still inexplicable lack of MMS support in its built-in Chat app. AIM also lacks the ability to participate in group chats, though you can circumvent that restriction somewhat with the use of AIM Blast, which seems to function as expected.
For those who just want to be able to send text IMs, AIM is capable, well-designed, and free to boot. You're not going to get the same rich-content experience that you get on the desktop computer, but in some cases that may be for the best. If sending pictures and voice messages is a must, then you'll want to see if Palringo fits your bill. Users of other services, like Google Talk and ICQ, will have to find a client that works with their network. But for the moment, most will probably be satisfied with what AIM offers.
AIM is compatible with any iPhone or iPod touch running the iPhone 2.0 software update, though the iPod touch only supports Wi-Fi connectivity.
[Associate editor Dan Moren blogs at MacUser.]