Having spent the bulk of my iPhone music-creating moments with Intua's powerful and capable beat-sequencer, BeatMaker( ), it's a little hard to then turn to MooCowMusic's $10 Band without thinking "Huh, cute toy." But to best appreciate Band that may be the most useful way to view it, as an entertaining musical diversion.
With Band you can play five instruments—Rock Kit (electronic drum pads featuring 12 pads that includes kick, snare, hi-hat, toms, and cymbals), Funky Drummer (eight drum loops mapped to a virtual electronic trap kit), Bassist (an octave and a half of bass guitar, from E1 to B2), Grand Piano (two octaves from C2 to C4), and 12 Bar Blues (blues shuffle drum pattern, I, IV, V rhythm and break chords in E; and buttons mapped to an E blues scale that play a lead guitar tone). Apart from the instrument sounds, there's an additional Audience sound that, when triggered, plays the looping sound of applause and cheering. You don't have the option to choose different sounds for each instrument. So, for example, Grand Piano is only an acoustic piano sound, you can't choose an electric piano sound instead.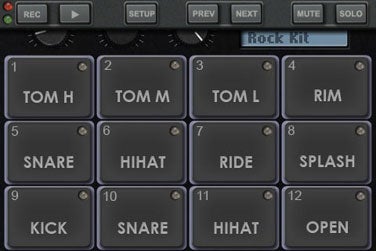 Tap the REC button and you can record any of the instruments and then overdub other instruments over your previous work. If you like, you can selectively mute or solo each instrument. Press the Play button and listen to what you've recorded.
From the Setup screen, you can alter the volume and pan (position in the stereo field) of each instrument; erase the last note, last overdub, current instrument, or the entire song; and switch on the program's metronome. In the Load and Save area you can save your tunes as well as load previously recorded songs.
The instrument sounds are pretty good—the drum pads could use a little reverb but the Funky Drummer patterns are as funky as the name claims, and the bass and acoustic piano sounds are acceptable (though the piano keys are too close together for adult fingers to play seconds reliably—thus eliminating "Chopsticks" from the repertoire of many).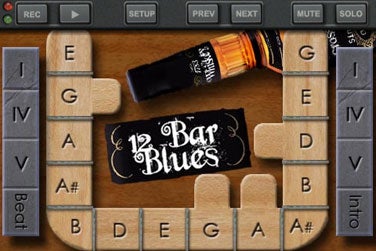 The most entertaining instrument is unquestionably 12 Bar Blues. Using the overdub feature you can lay down a shuffle beat with the tap of a single button, then the three chords necessary for a 12-bar blues (complete with turnaround on the V chord), and finally swipe your finger across the lead fretboard, which is mapped to an E blues scale, meaning you can't play a wrong note.
If one were to view Band as a serious music application it would be easy to find ways in which it was lacking—no quantize feature, no ability to edit your recordings, no way to offload your recordings to your computer, no way to load your own samples or choose different patches for a selected instrument, and on and on. But, as I said, it's not a serious music application. It's an entertaining musical toy that you and your kids will have fun playing with.
Band is compatible with any iPhone or iPod touch running the iPhone 2.0 software update.
[Senior editor Christopher Breen follows all muscial matters at the Playlist blog.]