Newer Technology on Thursday announced new tech products designed for students returning to school this fall. Included in the new collection is a toolkit and new high-capacity iBook batteries.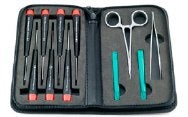 Also new are two new higher-capacity NuPower batteries for use in iBook laptops. One model is designed to work in old "clamshell"-style iBooks and provides 4400 mAh power — 37.5 percent greater capacity than the battery that originally shipped with those iBooks. Newer has also released a 4400 mAh battery for iBook G3 14-inch models, which sports 18.2 percent more capacity than a stock Apple battery. Both batteries cost $99.95 each.
The NewerTech 11 Piece Portable Toolkit includes straight blade and Philips head screwdrivers, Torx driver, a scissor clamp, tweezers and two "spudger" prying tools, all in a padded nylon carrying case. The $17.99 kit is aimed at anyone who needs to service computer and other electronic devices like iPods.